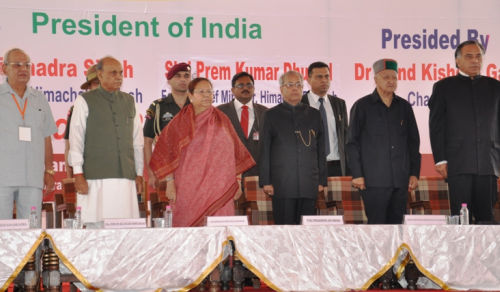 The President of India Pranab Mukherjee inaugurated Maharaja Agarsen University at Kalu Jhanda in district Solan today.
President, while speaking at the event, said that investment in education in an investment in future and is a powerful tool for social transformation. He complimented the Himachal Pradesh Government for their foresight in facilitating the establishment of this higher educational institute in the State. President hoped that Maharaja Agrasen University would fulfill the unmet need for higher education in this region.
Pranab Mukharjee said that the higher education sector is expanding significantly. The total number of students enrolled in this sector was 2.6 crore at the end of the Eleventh Plan period. This number is projected to increase to 3.6 crore at the end of the Twelfth Plan period. He added that India have over six hundred fifty degree awarding institutions and over thirty three thousand colleges and worried that still our country is short of good quality academic institutions, on account of which, many bright students prefer going abroad for higher studies.
He said that India has wonderful history and Indian universities had dominated the world education system. Takshashila was a global university established in the 6th Century BC. It became the point of assembly for four civilizations – Indian, Persian, Greek and Chinese. He showed concern that none of Indian university, now, featured amongst the top two hundred universities in the world. He added that despite India's higher education system being the second largest in the world, the enrolment rate for the 18-24 years age group in India is only 7 per cent, which is worrying factor, President added.
President stressed for the need of advanced technology in education and said e-education can take quality education to masses. He said that through e-classrooms, students studying in far off locations can also access to the good lectures.
In his address, President also stressed for need of skill development and asked students to infuse the life skills like self-awareness, empathy, creative thinking, problem-solving, effective communication, inter-personal relationship, and stress and emotion management. He also asked educational institutions to include such skills training in its course curriculum and also develop expertise to impart them.
President also underlined the need for attracting private investment in education. He also talked about the shortage of good faculty and advised to take immediate steps to fill up the large number of vacant faculty positions. He advised to use technology-based solutions to tide over this crisis. He hoped Maharaja Agrasen University to provide a strong impetus to the growth of professional education in country.
Governor Urmila Singh also graced the occasion by her presence as Guest of Honour. Chief Minister Virbhadra Singh welcomed the President and expressed gratitude to him for sparing his valuable time for inauguration of University. He said that it was a matter of proud and privilege that the President of India has graced the occasion adding that his words of wisdom would guide all of us especially the students in their pursuit for excellence and preparation for meeting the emerging challenges in day to day life.
Chief Minister said that Education, Research, Science and Technology were key to human development and Government had recognised them as major tools for development of human resources and upgrading human living. The State Government was spending 17.6 percent of the State's total budget on education and a sum of Rs. 3836 crore had been earmarked during current fiscal, he said. He said that Government was committed for providing quality education to the students and added that the Government had provided free travelling facility to all the students of government schools in HRTC buses from home to school and vice- versa.
He said that private universities were supplementing Government's efforts in spreading education and we expect them to maintain high standards of learning, research and education adding that dissemination of knowledge was a sacred mission and needs to be carried out holistically. He stressed for combining education with social, spiritual and scientific component so as to make it globally relevant. He said the objective of the Government was to bring technical and higher education within reach of the poor.
Leader of Opposition Prem Kumar Dhumal while speaking on the occasion expressed his gratitude to the President for inaugurating the Maharaja Agarsen University.
G.S. Bali, Transport Minister while welcoming the President said that State Government was committed to provide quality technical and job oriented education to the youth of the state. He said that Government of India had approved to set up Information and Technology Institute in Una district, besides the Government proposes to set up Hydro Power Engineering College in Bilaspur.
Chancellor of Maharaja Agarsen University Dr. Nand Kishore Garg welcomed the President and other dignitaries. He honoured the President and other guests with mementos. Prof S.P. Bansal, Vice Chancellor proposed vote of thanks.
Urban Development Minister Sudhir Sharma, Vice Chancellor, HP University, Shimla, Prof. ADN Bajpai, Additional Chief Secretary P. Mitra, Principal Secretary V.C. Pharka, Deputy Commissioner Solan Meera Mohanti, S.P. Baddi S. Arul Kumar, Senior Officers of GoI and State Government, Trustees of the university and prominent citizens of the area were present on the occasion.
The Maharaja Agrasen University has been established by the Maharaja Agrasen Technical Education Society.