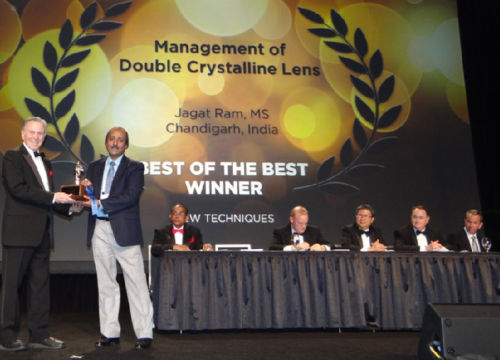 Dr Jagat Ram, Professor, Advanced Eye Centre, Post Graduate Institute of Medical Education and Research, Chandigarh won "Best of the Best Award" in the category of New Techniques for surgical video in Ophthalmology on last week at the American Society of Cataract and Refractive Surgery Conference held at San Francisco from April 19-23 where more than 10,000 ophthalmologists from over 120 countries participated.
Dr. Jagat Ram, who hails from Rajgarh in Sirmaur District of Himachal, has made state proud through this rare feat. He already has myriads of achievements to his credit. He recently restored vision to a 56 year old blind by replacing his 'Cornea'.
This award is most prestigious for ophthalmologists across the globe as any new innovation in surgical techniques is the bases for selecting videos to be presented for consideration of this award. Of the 180 video presentations selected for this conference from various countries Prof Jagat Ram's video presentation for implantation of customized intraocular lens in a child with double crystalline lens was declared as 'Best of the Best'. Dr Jagat Ram had designed a special intraocular lens which could be placed safely in a child born with two lenses in the same eye.
He demonstrated the new surgical technique to implant this uniquely designed intraocular lens successfully for the first time in the world. He also documented gratifying visual outcome in such a difficult situation.
The award was presented in a ceremony attended by over 10,000 eminent ophthalmologists from all over the world at the Moscone Convention Centre at San Francisco during the conference. The Chairman of the jury Dr Spencer Thornton presented the award and described this new technique as a miracle to happen in the field of ophthalmology. This technique has opened a new option for the management of difficult cases of cataract in children.
Many specialists including Dr Spencer Thornton described his new technique a miracle in field of ophthalmology.