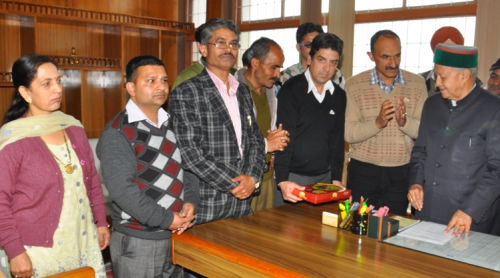 A delegation of office bearers of newly elected H.P. Secretariat Employees Association led by its President Rajender Sharma called on Chief Minister Virbhadra Singh.
Chief Minister said that the State had made rapid progress in various sectors and had emerged as a role model for other States. He said that employees were the backbone of the Government and playing a vital role in implementation of policies and programmes of the Government in right earnest. He said that State Government had always been considerate towards the genuine demands of the employees.
The delegation assured the Chief Minister that the employees would fully support the initiatives taken by the State Government.
Senior Vice President of the Association Sanjeev Kumar, Cashier Kamaljeet Singh, Executive members Tej Ram Verma, Asha Thakur, Ramesh Chand, Vinay Kumar Sharma, Khem Chand Sharma, Jagat Thakur, Kishore Kumar, Inder Mohan Thakur and Rhohit Mehta were also present on the occasion.