Churwadhar/Rajgarh: Enhancing green cover in the state, the Himachal Pradesh government has aimed to plant 15 lakh sapling in the 596 selected places in the State. The state government is aiming to realise its challenge with active participation of the people.
The State government has come up with a plan to encourage people of the state to adopt a tree as "Gotra Tree" and help to conserve and protect it. Which the policy-maker believes would motivate the people particularly the younger generation to conserve our environment.
On the occasion of 69th State Level Van Mahotsav at Churwadhar in Rajgarh area of Pachhad Assembly Constituency in Sirmour district, the Chief Minister, Jai Ram Thakur urged the people of the state to make afforestation a people's movement so as to increase forest cover of the State. He also urged the student to help in environmental conservation.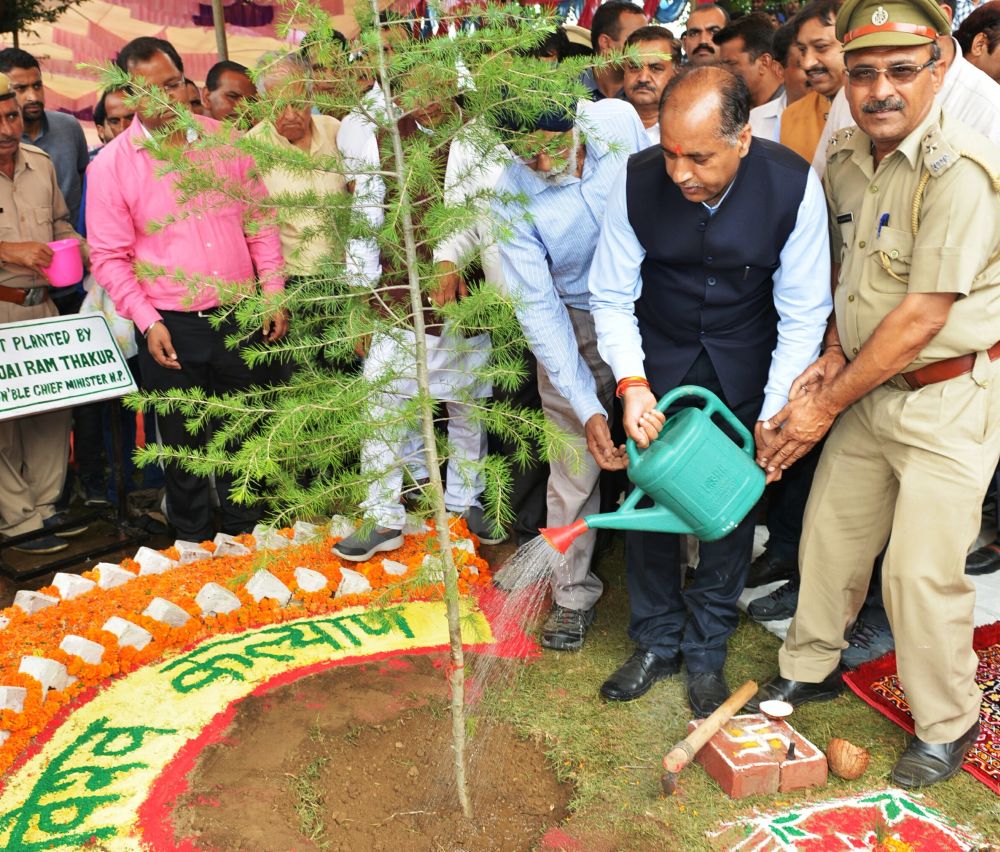 Jai Ram Thakur said the afforestation campaign should not be celebrated as a mere ceremonial occasion, but efforts should be made to ensure that the saplings planted grow up as trees so that green cover in the State could be increased. He said that Himalayas were the lungs of entire Indian subcontinent, therefore protecting and increasing forest cover was vital.
The Chief Minister planted a sapling of Deodar and medicinal plant on the occasion. He also planted a sapling at Dr. YS Parmar University of Horticulture and Forestry at Nauni in Solan District.
Forest and Transport Minister Govind Thakur said that the government was committed to make Himachal Pradesh a green and clean state of the country for which afforestation would be taken up in a big way.
Speaker, Vidhan Sabha Dr Rajiv Bindal, Rural Development and Panchayati Raj Minister Virender Kanwar, Social Justice and Empowerment Minister Dr Rajiv Saizal, MP Virender Kashyap, MLAs Suresh Kashyap and Sukh Ram Chaudhary, Principal Chief Chief Conservator of Forests Dr GS Goraiya, Deputy Commissioner Sirmaur Lalit Jain were also present of the occasion among others.