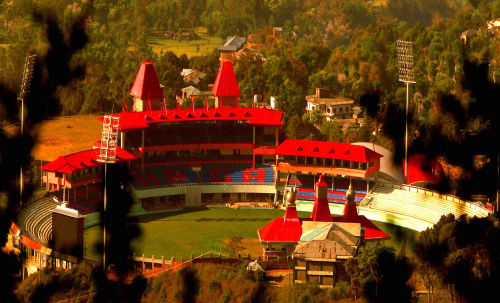 The Himachal Pradesh CPM has lambasted at the state government for not taking any steps in reclaiming the land given to the HPCA free of cost. CPM leader and Deputy Mayor of Shimla MC, Tikender Singh Panwar, in his press communiqué alleged that the state government has also failed to claim the dues from the security that it rendered during the IPL matches in Dharamshalla. CMP has asked the government to ensure that the more than Rs 2 crore due from the HPCA may be claimed and for providing security for the ensuing IPL matches the government must raise the money in advance.
Panwar alleged some political nexus between the BJP and the Congress and Congress led Govt's inaction on this issue proved it. CPM leader said that it has emboldened the HPCA to charge the fees from players for providing training. The Congress has virtually dumped its past statements that used to allege that the HPCA is the youth wing of BJP and is an arena of corporate to dump their black money. Now the Congress keeps a complete silence. Both speak in different languages but at the centre they appease each other. Here it needs to be reiterated that during the previous BJP government under the aegis of the HPCA, the HPU awarded a doctorate degree to none else but Rajiv Shukla who is the Congress MP and an important functionary of the HPCA. The same connection blooms even now and does not allow the game of cricket to bloom and instead has converted into a commercial venture.
The CPM has asked the youth of the state to expose this commercial venture. Though the HPCA is an organisation that is superfluous with funds still they are now charging fees of Rs 5000 per player for training them in the established cricket academies. This shows the real intention of these organisations, who in the garb of providing scholarships to players is actually fleecing the young budding talents.
CPM alleged that the HPCA has virtually finished the old precedence of holding district level tournaments of cricket which used to select competitive players for the state. They alleged that the HPCA has commercialized the game and has become one of the important areas of investment of capital and black money.
The party has asked the government to not to follow in the footsteps of its predecessors and ensure that it is the game and the players that prosper and blooms and not the ones who are at the helms and the speculators who are now governing the association.