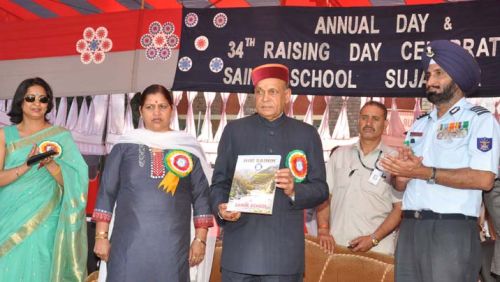 Chief Minister Prem Kumar Dhumal while presiding over the 34th Raising Day Ceremony of Sainik School, Sujanpur Tihra, in district Hamirpur today said that the National boundaries of the country could be better safeguarded by establishing 'Himalaya Regiment' in the State. He said that the Government had taken up the matter for setting up Himalaya Regiment with the Government of India, adding that the soldiers from Himalayan regions were well versed with the topography of hill areas and mountainous terrain and were capable and believed to guard the national boundaries with more efficiency.
Congratulating the staff and the students of the school, Dhumal said that the school was playing an important role in shaping the youth of the State to be eligible for defence services. He said that Sainik School, Sujanpur Tihra was amongst the 18 schools in the country which had provided efficient soldiers for the country. Dhumal said that out of 52 martyrs of Kargil War, nine were from Bamsan area of Hamirpur and out of four Paramvir Chakras given for bravery, two were conferred upon the soldiers from the State of Himachal Pradesh to have shown exemplary courage during 'Operation Vijay'.
He said that the State Government had requested the Centre to extend the existing rail line upto Leh in Jammu and Kashmir so that it may facilitate the defence services and would also simultaneously promote tourism. Chief Minister said that at present, the defence paraphernalia was being air lifted to Ladakh for catering the needs of the soldiers and army units, which was a costly affair. The rail link upto Leh could avoid the extra expenditure which otherwise would have been spent for defence purposes.
Chief Minister assured that proper renovation of school buildings and hostels would be done on priority for which the staff of Public Work Department would be readily available, when required. The Chief Minister also released the school magazine 'Him Sainik' and distributed prizes to the students. Major Sudhir Walia Trophy was awarded to 'Ravi House' for excellence in academic and Sports activities for the session-2011-12. Cadet Vipul Chander Memorial Trophy was given to Amardeep Jaswal. Aditya Kumar, Amardeep Jaswal and Rajnit Kumar were adjudged as best cadets.
Earlier, the Chief Minister took guard of honour from the students and also inspected the parade. He also paid floral tributes at the Vir Samarak. Group Capt. Surinder Singh, Principal, Sainik School welcomed the Chief Minister and read out the Annual Report. He also placed several demands before the Chief Minister. He said that Sainik School, Sujanpur Tihra ranked seventh in the country. Cadet Sudhanshu Sharma proposed vote of thanks. Urmila Singh, MLA, Pyare Lal Sharma, Chairman, APMC, Rajinder Rana, Director, Sainik Welfare, Sarla Sharma, Chairperson, Zila Parishad, Desh Raj Sharma, District President BJP, Brigadier, Deepak Arora, Rajinder Singh, Deputy Commissioner, Kuldeep Sharma, S.P., and senior officers from Army and Civil were present on the occasion.