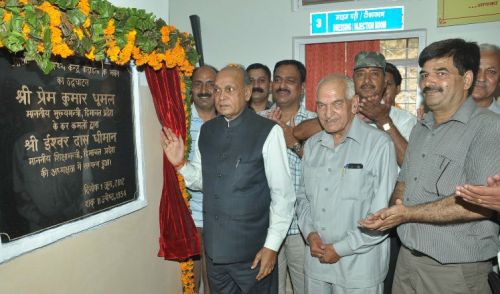 Chief Minister Prem Kumar Dhumal disclosed that Government is spending Rs. 190 crore per annum on subsidizing electricity to domestic consumers in the State. He said it in a public meeting at Karohata in Bhoranj Sub-Division of district Hamirpur, after he dedicated newly constructed PHC building, completed at a cost of Rs. 50 lakh which would benefit population of 12 thousand of the area today.
Chief Minister said that power was becoming dearer in every state of the country and no state was paying on such a high subsidized rates to the domestic consumers. He said that to ensure the supply of electricity to consumers on old rates, the State Government had enhanced the subsidy component from Rs. 166 crore to Rs. 190 crore this year. He said that under Atal Bijli Bachat Yojna the electricity bills of the domestic consumers in the State had come down substantially thus saving electricity. He said that four CFL bulbs were provided to domestic consumers free.
He said that the State Government had adopted Election Manifesto as Policy Document of the State Government and performed beyond the scope of the same. He said that Atal Bijli Bachat Yojna, Atal Awas Yojna, Atal Swasthya Seva Yojna, Matri Bima Yojna, Atal School Uniform Yojna, were some of many such schemes, which had no mention in the Manifesto. He said that Atal Swasthya Seva Yojna had benefited people across the State thereby saving precious lives of people by transporting them to health institutions in critical situations. He said that free medical care, institutional delivery, related tests, medicines and cash incentives were being provided to expectant mothers.
He said that Mother-Child Mobile Tracking Scheme had also been launched and regular monitoring of their health was being ensured under Matri Seva Yojna. He said that free medical check up of school children was also being ensured under Mukhya Mantri Vidyarthi Swasthya Yojna. He said that free denture was being provided to elders above 65 years of age belonging to BPL families. He said that every ration card holder, irrespective of their social and economic status were eligible to get essential commodities at subsidized rates under PDS retail outlets all over the State.
Prof. Dhumal said that State was upgrading quality educational infrastructural facilities in association with private participation to provide vocational education facilities to the students within the limits of the State. He said that out of 24 B.Ed. colleges opened during earlier term of 1998-2003 one was opened in Tarkwari. He said that earlier parents had to send their wards for attaining higher and vocational education to other states for lack of adequate higher education facilities in the State and keeping in view the increasing demand of such youth, the State Government had opened quality higher education centres in the State to provide them world class education at affordable costs within the State. He said that Career Point Private University had been issued letter of intent to set up University in Bhoranj segment in near future. He said that the state had witnessed a silent revolution in education sector during past four years and Himachal Pradesh would be emerging a 'Knowledge Hub' of the country in coming years.
He thanked former Prime Minister Atal Behari Vajpayee for inspiring him to open higher education centres in the State. He said that Atal Shiksha Kunj had been developed at Kalu Jhanda in Baddi area of district Solan to house four world class universities. He said that efforts were afoot to motivate experienced and competent parties to open universities in private sector in Chamba, Mandi and Bilaspur districts.
Chief Minister said that Bhoranj had emerged as a model segment in the State for having best road, education and health infrastructural facilities. He said that the State Government had never lacked in providing adequate budgetary provisions for developmental projects. He said that every house had been benefited with the visionary schemes launched by the State during past four years. He said that State Government had equated Ward Panch with the Pradhans of Gram Panchayat in providing honorarium besides increasing the same. He said that petty traders had also been extended Insurance Cover to protect them against any accidents. He assured fulfillment of demands of the local people on priority. Prof. Dhumal also distributed scholarships to GSSS students valued at Rs. 70 thousand on the occasion.
Ishwar Dass Dhiman, Education Minister and local MLA, welcomed the Chief Minister to his home segment and thanked him for setting new record in the development history of Bhoranj. He said that 156 hand pumps had been bored in Bhoranj which included 12 in Karohta panchayat. He thanked for assuring people of the area of completing 132/33 KV sub-station at Jahu in 18 months which was bound to solve electricity problems of consumers in and around the area. He said that adding grain market with the marketing yard at Jahu would help farmers sell their produce near to their homes. He said that Atal School Uniform, aims at bringing uniformity in educational institution, was a landmark in strengthening education sector and providing each of the student upto matric standards, two pairs of school uniform during each academic session.
Col. Inder Singh, MLA, Gopalpur Assembly segment in district Mandi, thanked CM for laying foundation stone of 132 KV Electricity Sub-Station and marketing Yard at Jahu, which had been a long pending demand of the people of his home segment and would solve low voltage and regular electricity supply to the consumers in Mandi district.
Des Raj Sharma, President, District Hamirpur BJP, said that district Hamirpur had emerged a role model in developmental and infrastructural creations in the State. Anil Thakur, President, BJP Mandal, Bhoranj, also welcomed the Chief Minister to his home segment. Vir Singh Karohta, Pradhan, Gram Panchayat, Karohta also spoke. M.C.Parmar, CMD, Ex-Servicemen Welfare Corporation, Kripal Parmar, Vice Chairman, HP State Marketing Board, Shri Pyare Lal Sharma, Chairman, APMC, Hamirpur, Sarla Sharma, Chairperson, Zila Parishad, Vijay Pal Soharu, Member, State Media Advisory Committee, Rajender Singh, DC, Madhusudan Sharma, SP, Dr. Dinkar Burathoki, Director of Higher Education, P.C.Negi, Director Technical, HPSEB, B.T.Negi, Chief Engineer, PWD, other senior officers and prominent people of the area were present among others on the occasion.