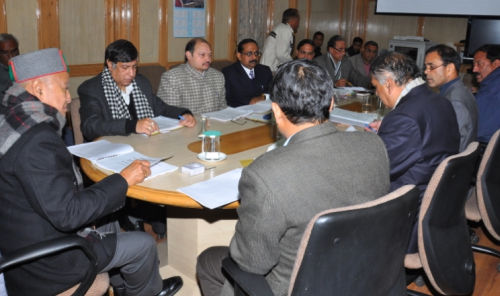 In the review meeting of Public Works Department, Chief Minister Virbhadra Singh announced that the Chandigarh-Mandi-Manali National Highway-21 would be upgraded to four lane by National Highway Authority of India (NHAI) and in the first phase NHAI would take the construction work on 118kms from Garamaura to Nerchowk. He said that to speed up the land acquisition process and to expedite the work a dedicated Revenue Officer would be posted. A Revenue Officer would also be posted to gear up the land acquisition process for Shimla-Kalka four lane project.
Chief Minister said that a tunnel would also be constructed near Swarghat which would reduce the distance by about 35 kms from Kiratpur to Nerchowk and by about 60 kms upto Kullu. State Government would prepare pre-feasibility report for Chamunda-Holi Tunnel which would decrease the distance of Chamba by approximately 200 kms, he added.
He directed the department to provide road connectivity to all the remote and far-flung Pandrah-Beesh areas of Rampur, Anni and Kinnaur, which had remained neglected so far. He also directed to maintain Tikkar-Nankhari-Khamari road, Mehandli-Tikkar road, Sungri-Balli, Theog-Rohru, Narkanda-Tikkar, Neerath-Nankhari, Anni-Jalori roads on priority. He also asked the PWD officials to explore possibilities of converting Narkanda-Sidhpur-Baggi-Kharadhala, Sungri- Taklach-Nogli/Masnuh/Sarahan/Gharat/Jeori/Shalabag/ Tranda road into National Highway and mettling of Duttnagar-Sungri bali road. He also directed to expedite the work of Kashapat road in Rampur and construction of bridge to link Darkali with road.
Chief Minister said that a committee under the chairmanship of Chief Secretary comprising of Principal Secretary PWD and Forest would look into all matters of land acquisition so as to expedite the roads construction in the State. He said that roads were the life lines of Himachal Pradesh and State Government had accorded top priority to this sector.
Virbhadra Singh said that about 380 road project cases were pending with the Forest Department for clearance. He directed the senior officers of Forest Department to visit the field so as to settle the cases at the earliest. He said that under PMGSY the details project reports (DPRs) of road construction for 485 habitations could not be prepared due to non-availability of private land and work on 21 roads sanctioned under PMGSY could not be started due to non-availability of private land. He directed the officers to sort out the matter.
Chief Minister said that at present Himachal had a total of 32,777 KM motorable roads which include 1553 KM National Highways, 1530 KM State Highways, 1969 KM Major District Roads, 27,005 KM Rural Roads. 720 KM roads were with Border Roads Organization (BRO). He said that out of total road length 20,189 KM was metalled/tarred and 25,006 KM had cross drainage facility. State had 1801 bridges and out of a total 18946 habitations of the State 12841 was connected with roads. At present Himachal had road density of 58.87 km/100 sq. kms area, he added. He said that Rs.1082.55 crore was being spent on construction of roads and bridges in the State during current financial year.
Virbhadra Singh said that Black Topping on 1296 KM roads was completed up to December last against the target of 1611 KM and target would be achieved by March, 2013. He said that a total of 170 KM roads were constructed with plastic material. He directed the officers to continue with the construction of plastic roads so that environment conservation could be ensured.
Chief Minister while expressing concern over black spots directed the PWD Department to put up signage boards at all black spots so that people could be made aware about these spots. He also directed the officials to put up traffic signals along with distance markers so that people and tourists coming to the State could be facilitated. He said that 190 black spots were improved during the current fiscal year.
He said that 141 road project proposals worth Rs. 284 crore under World Bank funded PMGSY had been submitted to Government of India on 15th February, 2013 for approval.
Chief Minister said that State had 1553 kms of road length under National Highways and eight more proposals for National Highways were send to GoI in January, 2013. He said that out of these eight, five proposals had been agreed in principal by GoI to be declared as National Highways.
Virbhadra Singh expressed concern over un-authorized construction near all the roads in the State especially on Sanjauli Bye-pass. He directed the officers to take necessary action in this regard.
S. Roy, Chief Secretary, V. C. Pharka, Principal Secretary to Chief Minister, Narender Chauhan, Principal Secretary, PWD, Dr. Shrikant Baldi, Principal Secretary, Finance, Pradeep Chauhan, Engineer-in-Chief, PWD, Lokender Chauhan, Special Secretary, PWD and senior officers of PWD were present on the occasion.