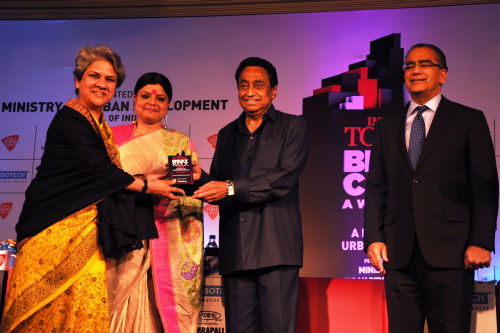 New Delhi: Historic Shimla city has been declared as best city in the country in the category of environment and Public Services in nation wide survey conducted by prestigious India Today Group. Survey suggests that Chennai is the best metro and Vadodhara is the fast emerging city.
Union Urban Development Minister Kamal Nath presented best city award to Upma Chawdhry, Principal Resident Commissioner Himachal Bhawan in a function held in hotel ITC Maurya Sheraton, New Delhi.
The survey of India Today Group was based on 50 cities and was assesses each under nine categories-housing and transport, education, entertainment, environment, crime and safety, public services, healthcare, investment and economy. In addition to these categories, the survey also compiled all into an overall category. Given the fact that it would not be fair to club all cities together, the survey separates the metros and state capitals from a different category of emerging cities. India Today Group claimed that the survey is based on factual data and perceptual data and was conducted by Indicus Analytics.
India Today Best Cities Survey was a first of its kind survey conducted by prestigious India Today Group and it believes that these rankings will set the gold standard for measuring the performance of city and state governments.
All the major and small cities of India are face to face with flux of talents which is increasing with leaps and bounds every day. Some reports say that its cities in the next decade were likely to house over 600 million people and account for 70 per cent of the county's GDP. As a result, they all need special considerations from the administration to not only make them ready for the future but also provide them better job opportunities. If we believed these data they need a congenial environment to work and to play. The future of India, in many ways, depends on the prosperity of its cities and they definitely deserve better planning and management.
Historic Shimla is no doubt environmentally rich and somehow have good Public Services, as Indicus Analytics believes, but its green shield is depleting rapidly, all thanks to administration and its alleged patronization for the developers, where politicians and many Govt officials themselves promoting and culling hundreds of trees to make quick bucks, thus we will need strong action plan to save it from possible extinction.