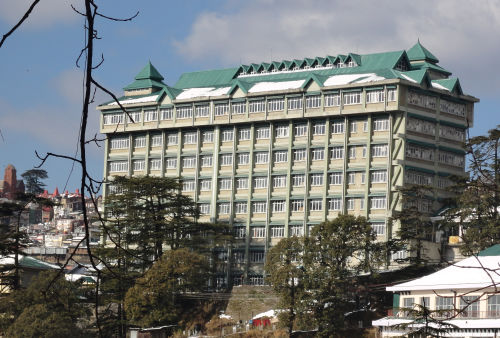 The Himachal Pradesh High Court directed the state government to maintain status quo on Patanjali Yogpeeth land near Sadhupul in Solan district. A division bench, which comprises Justice Deepak Gupta and Justice Kuldip Singh, restrained the government from demolishing the construction, which has already been raised, or changing the nature or possession of the land until the case is disposed of.
The court directed the government to file a reply within four weeks and listed the matter for next hearing on April 24.
The high court order comes less than a week after the state government took possession of the prime land in Solan district as it found the former BJP government in 2010 violated statutory provisions in allotting it to Patanjali Yogpeeth.
Baba Ramdev's Patanjali Yogpeeth Trust has constructed an ayurveda hospital-cum-yoga 'shivir' hall on the land.
The State government on February 22 took back the possession of the 96.5 bighas of land and in protest of it Patanjali Yogpeeth moved the high court on February 25, alleging that the state's decision to take back the possession of land was illegal.
The petitioner said the lease deed was validly given to the trust and that it spent about Rs11 crore for land development. However, the Congress led state government said the land, valued around Rs35-40 crore, was allotted to the yoga guru for a one-time lease payment of Rs17 lakh for 99 years at a token annual fee of Re1.