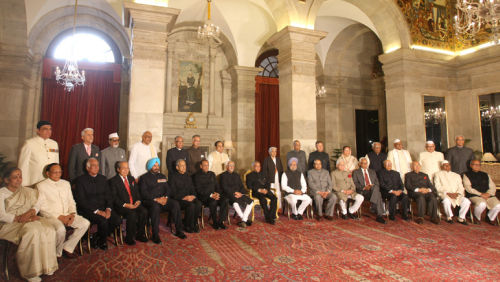 In a conference of Governors at Rashtrapati Bhawan, Himachal Pradesh Governor Urmila Singh had urged the Central Government to sanction a battalion of National Disaster Action Force for Himachal Pradesh.
While addressing the conference, she said that Himachal falls under earthquake sensitive zone five and apprehension of cloud burst, flood, avalanche and other natural disasters always persist here. She stressed the need for constituting a Disaster Action Force keeping in view to rescue the mountaineers from natural disasters adding that the State Government would provide adequate land and all possible assistance for constituting this unit.
Urmila Singh also stressed on strengthening the State Narcotic Control Bureau and said that it was a matter of concern that opium and Cannabis were being cultivated in large area of the State particularly in remote areas.
Governor demanded for enhancing the aid being provided under Border Area Development Programme (BADP) from Central Government. She also stressed for strengthening basic infrastructure, technology, civil and police establishments in the tribal areas of State especially on international border. She also stressed for liberal financial assistance from the Centre for construction of roads and setting up Border Posts in these areas. She also urged the Central Government for re-considering the decision of withdrawing Indo-Tibet Border Police Force from Chamba district and said that it should be continued there for another two years.
Urmila Singh said that there had been regular decline in the crime rate in the State which has come down to 16 percent in the year 2011 and 2012. She said that Root Zone Technology was being implemented for purification of polluted water in eight industrial cities i.e. Parwanoo, Hamirpur, Nadaun, Nalagarh, Baddi, Dehra, Mehatpur and Santokhgarh by natural method. To bring all the families under Total Sanitation Campaign a base line survey was being conducted under Nirmal Bharat Campaign in the State. She said that under this programme Rs. 16.66 crore were provided by the Central Government during the year 2012-13 and in addition to this State Government had released Rs. 5.82 crore for implementation of this Programme. She said that 1011 Gram Panchayats had been successful for getting Award under Nirmal Gram Purskar being provided by Government of India.
Urmila Singh urged the Central Government for bearing all the security expenditure being spent for security of Tibetan spiritual leader Dalai Lama and Religious Guru Karmapa as only small amount of aid was being provided by Central Government for this purpose till now. She requested the GoI for providing liberal assistance for establishing Tibetan Refugee Units at Shimla and Tibetan Refugee Cell at Dharamshala.