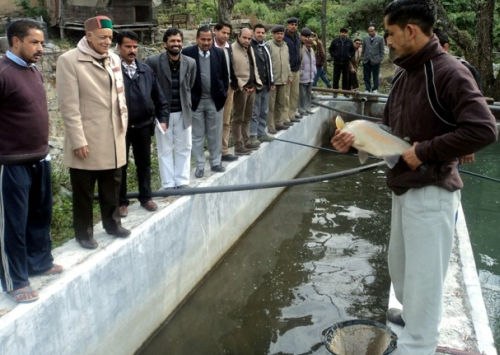 The Government of India has sanctioned Rs. 10 crore to Himachal Pradesh for fishery development. This amount was approved for the State during a meeting between Union State Minister for Agriculture Tarik Anwar and State Forest and Fishery Minister Thakur Singh Bharmuri at New Delhi, today.
Thakur Singh Bharmouri said that the State Government would utilize this amount for developing modern infrastructure facilities and new techniques in different reservoirs of the State. He said that GoI has also given agreed in principal to sanction Rs. 29.36 crore projects for fishery development in the State and added that State would submit a detailed project report in this regard to the Central Government. Under the project, the domestic and commercial fish rears would be provided high quality seeds and technical and infrastructure facilities besides increasing the number of reservoirs under trout fish production in tribal areas.
He said that trout fish production would also be started in new areas and special emphasis would be given on fish rearing based on the weather condition of different areas so as to provide additional source of income to the farmers.
Bharmouri also urged Union Forest and Environment Minister Jayanti Natrajan for central assistance of Rs. 100 crore to combat monkey menace in the State. He said that State had formulated a long term plan to cop up with this problem under which trees and fruit bearing shrubs of different species would be planted in the forest areas. He said that castration centres would also be established in various parts of the State under the plan. The State has sent for projects amounting to Rs. 15.38 crore to the GoI for opening monkey's primate park castration centres and training centres etc. He added that there were around 3.5 lakh monkeys in the State and castration of around 62,000 monkeys had already been done by the State.
He urged the Union Minister to approve Rs. 500 mega project of the State for removal of lantana weeds which was causing a great damage to the farmers and sheep breeders. He also requested for providing liberal Central assistance under the technique developed by the State from its own resources to remove lantana grass.