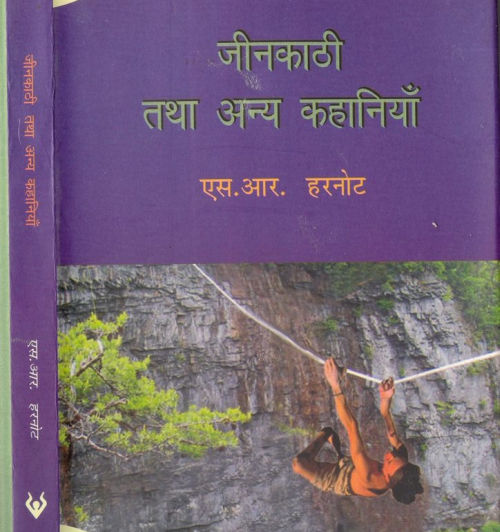 Shimla: Noted Hindi writer SR Harnot retires from Himachal Pradesh Tourism Corporation here today. He rendered his services for long 36 for HPTDC. Prior it he also worked in Industries Department for four years.
Born in a poor family at village Chanawog, Tehsil Sunni, District Shimla, Harnot has received recognition as a renowned writer not only in his own State, but National and International level also. He started his journey from Pahari poetry and write-ups and today more than a dozen books are in his credit. Some of these are-Panza, Aakashbel, Peeth Par Pahar, Darosh, Jeenkathi, Mitti Ke Log, Adhar Chayan Kahaniyaa (all short stories books), a famous Novel-Hidimb and four books on Himachal. The credit goes to Harnot for introducing almost all literary magazines among the readers and writers in HP. He has done tremendous job for promoting literature, culture, and tourism writing in the Pradesh.
Numbers of his stories have been translated in English, Russia, Italian, Marathi, Malayalam, Udiya, Gujrati and Punjabi. Mafia is a collection of 14 stories translated in English by Saroj Vashisth. His stories have found place in M.Phil and PhD syllabus in Central University, Dharamsala & Trivandrum. More than a dozen M.Phil & Ph.d have been done on his stories and novel in various colleges and universities allover India. Presently Trivandrum, Hyderabad, Central University, Choudhary Charan Singh University, Punjabi University's students are doing PhD on Harnot's literature. He is so popular among readers that second editions of Darosh, Jeenkathi and Hidimb have been published. Novel Hidimb has been serialized from FM Shimla recently. This novel was also find place in a World Culture & Environment Conference held during 2011 in Bhutan and a renowned Italian writer Mariola Offeredi presented an English Paper on this novel there. During 2010, the magnetism of Harnot's writing compelled Mariola to visit India and especially to his village Chanawog to see and observe his locale. His one story A-Manav –translated by her in English was also presented in a World Literature Seminar held during July 2012 in Lisbon Portugal.
Recently Bejuban Dost –another popular story of Harnot has been dramatized in Gaiety by Anupamkher's School of Writer Prepares Mumbai and Billayaan Batiyati Hai by a local Drama Club. His another story-Maan Padhti hai-translated in English by Prof. Ira Raja of Australia as Maa Reades had been find place in a renowned Literary American Journal Atenea and later included in a book brought out by Oxford University Press. A world famous site Google has created an account of Harnot's work and may access there. All his fiction mostly belongs to poverty stricken and caste ridden grey areas of rural life in north western mid Himalayas. He writes whatever he has experienced in his own life lived among the rural folk of this hill state. Harnot writes in Hindi. His short stories have been widely published, received and reviewed favorably in literary magazines.
Service career
The life of Harnot remained very struggle full. He could not continue his study further due to financial constraints. During 1972 after completion of his Matric, he came to Shimla and worked as Beldar in MC Shimla and then in Baljees Restaurant. In April, 1977 he was selected as regular clerk in Industries Department-Geological Wing. With his service, he continued his education. He did Hindi and English Short Hand courses and in 1977 he joined HP Tourism Development Corporation Ltd as Jr.Steno. He did his Hindi Honors, BA, MA, and PG diploma in PR & Advertising including Master Degree in Journalism during his service. In HPTDC he started his career as Jr. Steno and is now retiring as Dy. General Manager. He served HPTDC for 36 years and gave fame to Organization by his writing not only in the State but country and abroad.
During his services, Harnot had produced quality Publicity Literature for HPTDC including Photography. A comprehensive HP Tourist Map was designed by him with his colleague Ved Pandy in Publicity Branch which is one of the most popular and prestigious publication of HPTDC.
On the last day of his service, Harnot thanked his staff and also has very special words for Manisha Nanda, the former Secretary (Tourism), Subashish Panda, MD, TDC and Yogesh Behl. He thanked them for recognizing his contribution to the department and as an writer. In 2010 he was honoured with Tourism and Literature Award.
Awards & Honours
Harnot received numbers of State, National and International Literary Awards for his writings. Some of these are International Indu Sharma Katha Samaan-2003, Himachal Academy Award, National Janpriya Lekhak Samaan by Pakhi magazine, Vashisth Sahitya Award by Creative News Foundation New Delhi, Akhil Bhartiya Bhartendu Harishchandra Award, Himachal Kesari Award, Shresth Sahitya Samaan by Prachin Kala Kendra Chandigarh, Himachal Gaurav Samaan, Hindi Sewa Samaan by Malwa Rangmanch Smiti Ujjain and Kritika Communication Mumbai, Sahitya Samaan by Hindi Sahitya Samellan Prayag, Sahityakaar Samaan by Himachal Pradesh State Teachers Association Hamirpur and Paryatan and Sahitya Samaan by HP Tourism Development Corporation Limited. Recently Harnot has been selected for a National prestigious Jagdishchandra Smriti Award-2012.