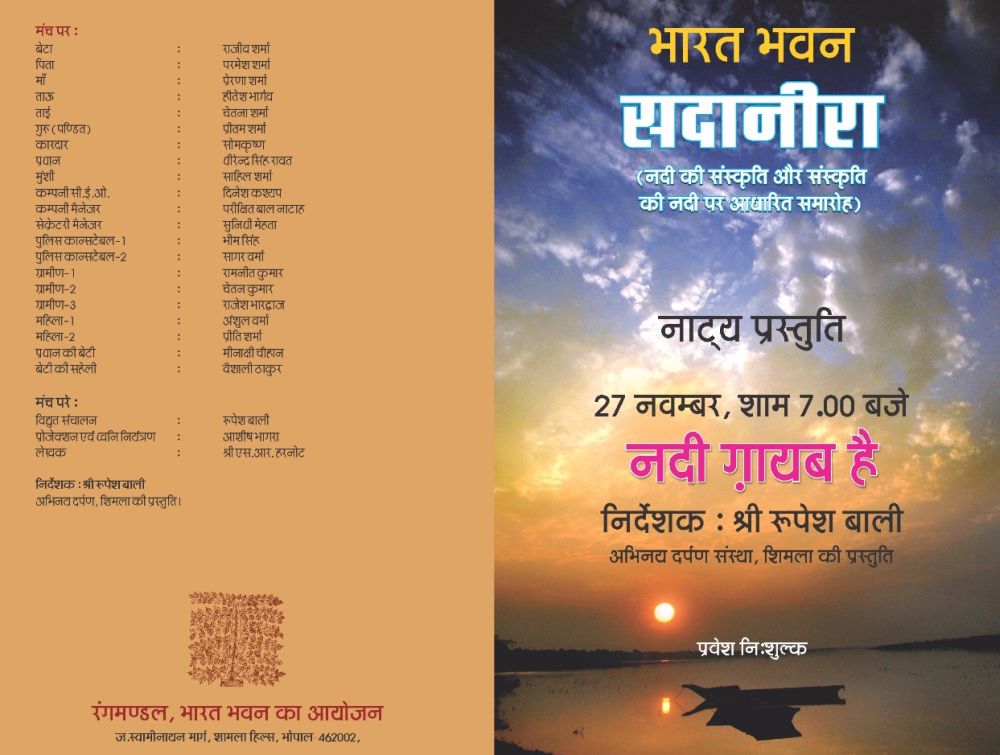 Himachali author SR Harnot's famous short story 'Nadi Gayab Hai' will be staged in 7 days International Cultural Festival 'Sadaneera' by Shimla based Dramatic Club Abhinay Darpan on 27th November, 2017 at Bharat Bhawan Bhopal.
The play has been directed by Rupesh Bali. This 7 days Festival being organized is based on Rivers Culture in which all literary discussions and presentation are related to the rivers who are loosing their identity day by day. The story of SR Harnot was published in his Hindi Book titled Mitti Ke Log.
Story 'Nadi Gayab Hai' has been translated in many Indian languages included in English. Dr Ravi Nanda Sinha, Editor of famous English Journal 'The Quest' has edited a book in the name – Great Hindi Short Stories—in which renowned foreign and Indian authors has been included and Harnot's this story has found prominent place in it.
A Hindi Book dedicated to Harnot's Environment based stories, in the same name – Nadi Gayab Hai – is under publication which has been edited by Dr. Usha Rani Rao, Head of Hindi Department in Bangalore based Baldwin Women's Methodist College.