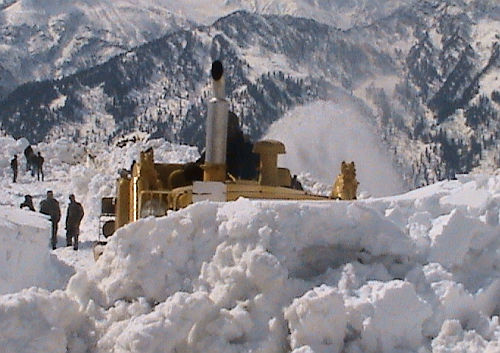 After heavy snowfall, it has become a herculean task for the Himachal Pradesh government to ensure proper power supply and open blocked roads in major parts of the state.
People continue to remain stranded in tribal districts as in Kinnaur District – Hindustan-Tibet road is still blocked at many places and many people are stranded in Lahaul & Spiti as well. Affected people are demanding that Army should be pressed into service to clear the snow from roads. Govt is working overtime to clear the snow from the road, but heavy snow, sliding boulders and avalanches in Kinnaur, Lahaul Spiti and many other places are thwarting their efforts.
The season's first heavy snowfall had cut off Lahaul-Spiti, Kinnaur, Pangi-Bharmaur, Bhara Bhangal, Chhota Bhangal, Seraj, Chauhar and Karsog, besides upper areas of Shimla district where around 100 main and link roads are still blocked and power supply is yet to be restored fully.
Heavy snow have also caused a huge loss to the apple growers as large number of apple trees in Shimla, Kinnaur, Mandi, Chamba, and Kullu districts have uprooted. Major apple producing region of Shimla districts Matiyana, Narkanda, Kotgarh, Thanedhar, Jarol Tikker, Bagi, Ratnari, Moraog, Kotkhai, Kiyari and Rohru have faced major set-back as 25 to 50 percent of apple plants are heavily damaged.
Although horticulture minister has promised all possible help to the affected horticulturists and directed officers of Revenue and Horticulture departments to assess the loss in concerned areas and asked to tabled their report as quickly as possible, yet the effectiveness of it looking bleak. Minister talking about the financial assistance from Central Government and said that spray and other essential commodities would be provided to horticulturists as relief. Apple growers are only hoping Govt to implement it.
Restoration of complete power supply can also take more time as officials at Himachal Pradesh State Electricity Board chairman stated that snowfall has caused massive losses to transmission lines, standing poles and transformers.
As state Govt failed to clear the road and ensure the power supply at many places, many are demanding to declare the heavy snowfall as natural calamity so as to invoke disaster management plans and press Army into service to start relief and rescue operations.