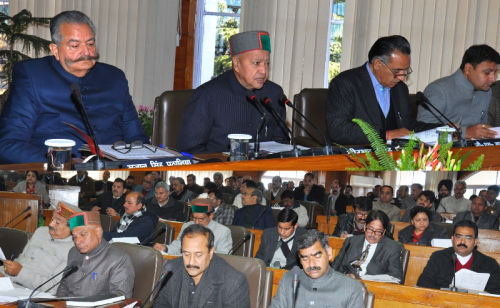 Chief Minister Virbhadra Singh said that State Government had proposed an annual plan of Rs. 4100 crore for the year 2013-14 which was 11 percent higher than the previous annual plan of Rs. 3700 crore. Chief Minister was presiding over the meeting of MLAs called for finalization of priorities for the Annual Plan 2013-14 here today. MLAs from Kangra, Kullu, Una, Hamirpur and Lahaul and Spiti districts participated in the meeting.
Virbhadra Singh said that Rs. 22,800 crore had been approved under 12th Five Year Plan for the State which was 65 percent higher than the previous five year plan. He said that this was the record increase and was highest in the country.
He directed all the secretaries and Heads of the Departments to solve problems and grievances of the public representatives on priority and immediate action should be ensured on their suggestions.
Chief Minister said that present State Government was committed for speedy and balanced development of the State and for this, election manifesto of Congress Party had been adopted as Policy Document of the State Government. All the departments had been directed to implement it in a letter and spirit, he added. He said that the State Government was committed to provide clean transparent and responsive government to the people of the State and Government would adopt zero tolerance policy against corruption. He said that for the speedy redressal of grievances and to provide able governance to the people of the State, Government would use information technology and e-governance in a big way.
Virbhadra Singh said that due to delimitation, the geographical area and names of many constituencies were changed considerably and in order implement sanctioned schemes and for the proper maintenance of records, State Government had decided to maintain the records of accounts of schemes approved under RIDF as per before delimitation of 2012-13 and for the year 2013-14 this record would be maintained as per the effected delimitation. He said that PWD and IPH departments were directed to prepare Detailed Project Reports only after obtaining consent from respective MLAs.
Chief Minister said that State Government would propose schemes worth Rs. 475 crore to the NABARD for the year 2013-14 which was 18.75 percent higher than the previous year target of Rs. 400 crore. He said that government had decided to take finance priorities of MLAs under PMGSY, CRF, World Bank, AIBP, NRDWP etc. and if funds under centrally sponsored schemes were not available than the finances would be obtained under NABARD.
He said that this decision was taken to obtain maximum benefits under centrally sponsored schemes keeping in view the financial position of the State.
Virbhadra Singh said that due to hilly terrain of the State the cost of road construction was higher than the plain areas and a request had been made to the Government of India to specify different norms for construction of roads under centrally sponsored schemes for the hilly States. Request was also made to Central Government and Planning Commission to provide more funds to the State under 12th Five Year Plan for PMGSY and Central Road Fund, he added.
Chief Minister said that in the year 2013-14 two- two priorities/schemes of every MLA would be included in the budget under Road, Irrigation, Rural Development and drinking water and thus in all 6 schemes of every MLA would be included in budget. He requested all the MLAs to send their priorities to the concerned departments so that they could be included in the coming budget. He said that the schemes on which work had been completed above 75 percent would also be included in addition to above.
Virbhadra Singh said that due to delay in forest clearance and in preparing DPRs, sanction for schemes get delayed. He said that for resolving forest cases, the Sub Divisional Committee would prepare forest cases at the earliest. He said that a three member Committee under chairmanship of Chief Secretary including Principal Secretary Forest and Principal Secretary Revenue would review the cases related to forest clearance month wise and would submit the report to Chief Minister's Office. He requested the MLAs to provide their suggestions on policy matters, financial resources, good governance, self employment, wage employment etc. in the meeting.
Virbhadra Singh said that proper schemes were the need of the hour to solve problem of unemployment, poverty, infrastructure etc. so that people could be benefited at large. He directed for speedy implementation of all the schemes.
Chief Minister said that his Government was committed for the balanced development of the State and adequate funds would be provided for this purpose. He said that efforts would be made to provide essential services to the people without any delay. He said that there would be no discrimination in respect of development in any area of the State.
G.S. Bali, Transport Minister, Sujan Singh Pathania, MPP and Power Minister, Mukesh Agnihotri, Industries Minister, Sudhir Sharma, Urban Development Minister, Neeraj Bharati, Chief Parliamentary Secretary also participated in the meeting and gave their valuable suggestions.
District Kangra
Ajay Mahajan, MLA from Nurpur requested that adequate funds should be provided for on going irrigation schemes. He said that bus stand at changer area should be constructed soon and Nurpur hospital be upgraded to 100 bedded hospital as was done by previous Congress Government. He demanded that a multipurpose stadium at Nurpur to be constructed soon.
Manohar Dhiman, MLA from Indora demanded that rivers and khuds flowing in Indora be channelized and more tubewells should be bored in the constituency. He requested for upgradation of schools, health institutions and government building should be provided for health institutions.
Bikram Singh, MLA from Jaswan-Pragpur requested that forest clearance for all schemes should be provided priority so that schemes could be completed on time. He demanded bus facility for every village of his constituency and a policy decision should be taken for solving monkey and stray animal problem.
Sanjay Rattan MLA from Jwalamukhi requested that forest clearance for developmental projects particularly for construction of roads should be provided on priority. He demanded that two colleges be opened in changer and Balihar area of constituency and schools be upgraded with relaxation in norms as per tough geographical condition of the area. He also requested for upgradation of drinking water schemes, hospital at Jwalamukhi and more primary health centre for the constituency.
Yadvinder Singh Goma MLA from Jaisinghpur constituency demanded that Karnaid, Dhar and Shantivan drinking water schemes should be completed on priority. He requested that Holta- Chadiyar and Alampur- Harsipattan roads be widened and bridges be constructed.
Jagjivan Pal, MLA from Sulah constituency demanded for solution of monkey menace and problem of stray animals. He said that veterinary pharmacists should only be trained in government recognized institutions. He requested that nurseries of 'Garna' fruit to be prepared and these plants should be planted in forest area by uprooting lantana. He demanded for procurement depot for rice in the area. He also demanded for more bus service in the area.
Pawan Kajal, MLA from Kangra constituency requested for concerted efforts to complete irrigation and water supply schemes in the area which lying pending since many years. He also demanded for inauguration of 'Gausadan' in Kangra and a college for Kangra constituency.
Sarveen Chaudhary, MLA from Shahpur segment requested for development of Kareri lake and Gambharu area from tourist point of view. She demanded that more doctors should be deputed in Shahpur hospital and DPR's of priority schemes should be prepared at the earliest.
Kishori Lal, MLA from Baijnath constituency requested for maintenance of Baijnath bus stand at priority, surgical wing at Baijnath hospital and metalled roads in constituency. He requested that Baijnath and Paprola towns should be made Municipal Committee and Salera school to be upgraded to Plus two.
Kullu district
Gobind Singh Thakur, MLA from Manali constituency demanded that Rs. 50 crore for Kullu-Manali Tourism Mega Circuit Project be provided and funds should be sanctioned for Hotel Management Institute. He said that possibility of Sky Bus Service between Manali and Hidmba Temple be explored and Kullu-Manali Tourism Council's guidelines should be simplified. He also requested for channelization of Beas, Parvati rivers and other tributaries.
Maheshwar Singh MLA from Kullu suggested for water treatment plants on Beas river. He requested that forest and revenue departments should initiate work for Kullu-Kadaun bypass so as to avoid encroachment on it. He requested that Manikaran Development Authority should be re-constituted and posts in lower cadres especially in Irrigation and Public Health, Electricity and Police Departments should be filled up on priority.
Karan Singh, MLA from Banjar requested for fire station between Sainj and Banjar, Sabzi Mandi at Larji and new parking facility at Banjar. He also demanded a tax toll barrier at Kasaul, upgradation of CHC at Banjar and adequate deployment of doctors and teachers in the constituency.
Khub Ram, MLA from Ani constituency requested that Outer Seraj and Ani areas should be developed as new tourist destinations and Luhri-Aut road to be mettled and widened. He also demanded for bus stand at Nirmand, ground for public meeting and helipad in the constituency.
Una district
Kuldeep Kumar, MLA from Chintpurni constituency requested for re-organization of blocks so that people could be facilitated with more efficient services. He requested for Sub Tehsil at Jod and demanded that villages with population above 100 should be provided roads under PMGSY. He also requested for proper maintenance of Amb and Chintpurni bus stands and said that DPRs for fourth phase of Swan channelization should be prepared at the earliest.
Rakesh Kalia, MLA from Gagret constituency requested for maintenance of Gagret-Chintpurni road, work be expedited on Mehatpur-Una road and forest clearance be provided for two kilometre patch of Amlehar-Chintpurni road. He demanded that exhaustive steps should be taken to tackle monkey menace in the area. He requested for more tubewells in the area. He said that income norms should be relaxed for widows covered under Social Security Pension Scheme and bus service/ taxi service be provided for villages in the constituency.
Satpal Singh Satti, MLA from Una constituency demanded that norms for double lane bridge under PMGSY be maintained and DPRs for channelization of 76 tributaries of Swan river be prepared at earliest. He requested for Mini Secretariat at Una district headquarter.
Virender Kanwar, MLA from Kutlehar constituency requested that roads for villages having population more than 250 be constructed under PMGSY, Mini Secretariat at Bangana, Sub Judge Office at Bangana, BDO Office at Basal, PHC near Baba Dera Rudrananda ji and irrigation project for Kutlehar constituency. He also demanded industries for constituency.
Hamirpur district
Ishwar Dass Dhiman, MLA from Bhoranj constituency demanded that on going schemes which were near completion should be given priority. He requested for expediting work on Hamirpur bypass and construction of bus stand there, channelization of Seer khad and speeding up work of 132 KV Sub Station at Jahu.
Rajender Singh Rana, MLA from Sujanpur constituency demanded that Mini Secretariat and SDM Office be opened at Sujanpur. He demanded for one more gas agency at Sujanpur and Tihra area be connected with Sujanpur Chowgan by ropeway. He also requested for sports hostel in Sujanpur and PHC for Chouri.
Inder Dutt Lakhanpal, MLA from Badsar constituency said that fenced areas should be constructed to tackle the problem of stray animals and adequate staff alongwith diagnostic machinery for Badsar FRU. He demanded that IRDP and BPL family survey be re-conducted and eligible persons should be included in it.
Vijay Agnihotri, MLA from Nadaun constituency requested to start work on 66 MW Dhaulasidh hydro power project and construction work of medium irrigation project for 134 villages of the constituency be started soon and channelization of Maan and Kunah khad be taken up alongwith construction of check dams. He also requested for Mini Secretariat at Nadaun.

Lahaul & Spiti district
Ravi Thakur, MLA from Lahaul & Spiti constituency requested that frequent helicopter services be provided at all the 14 helipads especially in winter season. He said that gynaecologists and surgeons should be deployed in hospitals of the constituency and medicines be provided there. He demanded that micro hydel projects should be constructed in the district and bus routes of the area should be re-scheduled and more buses be provided. He requested that more quantity of subsidized seeds should be provided and winter allowance of employees serving in tribal areas should be enhanced. He said that Central Government agency involved in construction of Rohtang tunnel should be asked to expedite the work.
Dr. Shrikant Baldi, Principal Secretary, Finance welcomed the Chief Minister and dignitaries and thanked them for their valuable suggestions. He said that these would help in speedy development of the State.
Additional Chief Secretaries, Principal Secretaries, Secretaries, Heads of Departments and other senior officers of the State Government were present in the meeting.