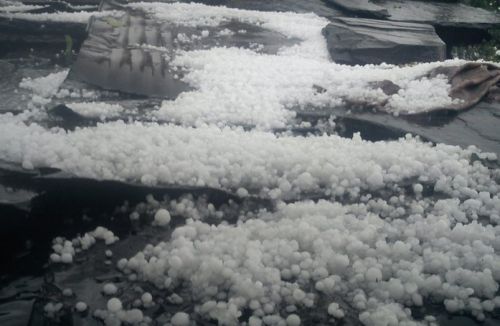 Hail-storm has almost destroyed the apple crop in Shimla District, even government recent effort could not save it as anti hail gun totally failed to deliver. After taking every possible step to prevent it, now Chief Minister Prof. Prem Kumar Dhumal has raised the demand with Centre to include loss to fruit and vegetables due to hail-storm in the list of Natural Disaster so that farmers could get compensation for the loss to their crops. In separate letters written to Prime Minister Dr. Manmohan Singh, Union Home Minister P. Chidambaram and Union Agriculture Minister Sharad Pawar, Chief Minister urged that very often the hail-storms had been causing massive damage to the fruit and vegetable crops in the State and needed to be included in the list of other natural calamities for providing compensation to the fruit and vegetable growers.
Chief Minister said that the Government of India had identified hail-storms as one of the natural calamity under water and climate related disasters in India but it had not been treated as a natural calamity for determining loss to the crops due to which the farmers are being deprived of compensation. He said that hail-storm has been the single largest factor demoralizing the fruit and vegetable growers of the State, as it has been resulting in very poor returns to them vis-à-vis the amount of labour and inputs invested by them in producing such high value crops. He said that the farmers had to invest heavily on inputs required for the recovery of hail damaged fruits and vegetables. Prof. Dhumal wrote that hail-storm had been a major threat to the fruit and vegetable productivity since it had been occurring without any warning causing massive damage to flowers as well as fruits. He said that the bud break to petal fall was the most sensitive state when hail-storm reduces the prospects of good crop. He said that it had been inflicting injury to buds, flowers and leaves besides causing sub lethal injury to the developing fruits and spurs as well. He said that hail damaged fruits did not fetch remunerative prices in the market. He wrote that the more severe form of hail-storm damage full grown trees to the extent that it might not be possible to get any crop for coming two-three ears. He said that fruit crops worth Rs. 21.83 crore, Rs. 248.34 crore and Rs. 236.41 crore had been destroyed by the natural calamities, mainly by hail-storms, during the years 2008-09, 2009-10 and 2010-11 respectively. He said that during current season itself, the loss to fruit crop had already touched a figure of Rs. 375 crore and was likely to increase manifolds in case fresh occurrences of hail-storm takes place in remaining period of current season.
Chief Minister urged the Prime Minister, Home Minister and Agriculture Minister to get hail-storm included in the list of natural disasters damaging fruit and vegetable crops of farmers to obtain suitable compensation as was applicable to other crops destroyed by natural calamity. He said that horticulture and vegetable cultivation had emerged a major income generating activity in the State amongst the undulating topography, rugged terrain and severe weather conditions like draught, wind-storm and hail-storm and deserved to be compensated suitably when destroyed by any of natural calamity. He hoped that the Union Government would be considerate towards such a genuine demand of the fruit and vegetable growers of the State and enlist hail-storm too in the calamity eligible for compensation.