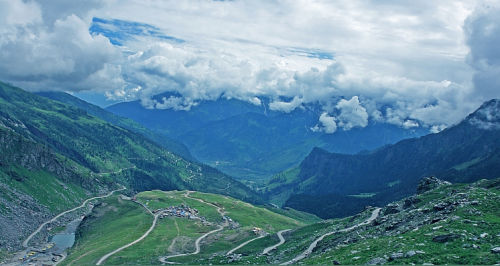 Chief Secretary S. Roy claimed that the State Government is serious to address environment concerns in Kullu-Manali area so as to strengthen the tourism infrastructure. He said that as many as 28 lakh tourists visited Kullu-Manali area last year out of which 1.5 lakh were foreigners. He said that to provide basic facilities to the tourists the bathing ghats on the bank of river Parbati in Manikaran area would be renovated at the cost of Rs. 40 lakh besides constructing Rs. 60 lakh biodegradable and electronic toilets.
Chief Secretary said that for preserving the pristine beauty of the area scientific disposal of garbage, adequate number of dust bins and solar lights would be set up at Manikaran. He said that State Government was embarking upon the eco-tourism activities in Banjar area in a big way adding that inspection hut in Shoja, Forest Rest Houses in Jibhi and Banjar were being refurnished without disturbing the traditional structure of the same. He said that the trek route to Lambri was to be improved.
Roy said that Government was taking adequate measures to protect the environment en-route Rohtang Pass and tourists are regulated beyond Manali. He said that to attract more tourists to the area 30 camping sites at Bahu, Gada-Gushani, Deori and Sainj with modern facilities were being set up and asserted that the endeavour of Tourism Department was to divert about 20 percent of tourist traffic to these places so that the tourists would be dispersed in conformity with the carrying capacity of environmental sensitive valley. He said that similar activities were being taken in Solang Nullah, Kothi and Rohtang to facilitate the tourists.
Chief Secretary said that trekking routes from Beas Nullah to Sagu water fall and Gulaba to Bhrigu lake were being restored. He said that wooden bridges were being repaired and trout fishing was being cropped in a scientific manner.
Roy said that parking space near Art Gallery Naggar was being improved for more vehicles. He said that keeping in view the demand for world class auditorium in Manali, a convention Centre would be developed with housing capacity of 500 persons alongwith a provision of parking of 150 vehicles.
He said that the present Green Tax Barrier was to be replaced with the State of Art Tourist Facilitation Centre besides beautifying Manali town. He said that a Water Sports Centre was proposed to come up at Pandoh. He said that 200 parking slots would be developed in Kullu. Roy thanked the Government of India for sanctioning first Mega Tourism Project worth Rs. 34 crore for the State.