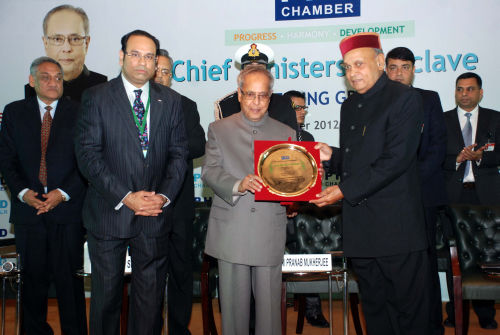 Himachal Pradesh has been adjudged as "Most Attractive Investment Destination State" in the county according to the data collected by the Ministry of Statistics and Programme Implementation Government of India. The industrial investment in the state increased by 116% in the year 2011-12 which is highest in the country according to the data collected by the ministry from all over the India. President Pranab Mukherjee presented the award to State Chief Minister Prem Kumar Dhumal in a function organised by PHD Chamber of Commerce & Industry at Delhi today.
Chief Minister Prem Kumar Dhumal, said that during the past four years the State economy grew at an average rate of 8.3% taking the GSDP of the State from Rs thirty three thousand nine hundred sixty three crore in 2007- 08 to Rs sixty three thousand eighty four crore in 2011-12 and added that a result of the fast pace of growth the per capita income of the State is expected to increase from Rs forty three thousand nine hundred sixty six in 2007-08 to Rs. seventy three thousand six hundred eight in 2011-12 which is 20% higher than the national per capita income.
He said that an investment of Rs nineteen thousand ninety nine crore has been approved to be invested in the State by five thousand seven hundred seventy five industrial enterprises involving employment opportunities to two lakh seventeen thousand persons since the year 2008. During this period, four thousand four hundred and fifty Industrial enterprises with investment of Rs.10,555 crore and employment to 59,665 persons have actually been established of which one hundred twenty two units are in the medium and large scale sector. He said that State Level Single Window Clearance and Monitoring Authority held 37 meetings in last four years and approved & monitored 247 new investments and 157 expansions with an investment of Rs 23777 crore in the State. He said at that State Government has constituted a Land Banks comprising of Government and private land for setting up of Industries to attract investment in the State and to ensure easy availability of land to prospective entrepreneurs in various parts of the State.
Chief Minister said that the Government of Himachal Pradesh and Container Corporation of India (CONCOR) have signed a Memorandum of Understanding (MOU) for the construction of Inland Container Depot (ICD) at Baddi at a cost of Rs 57.45 crore which will cater to the aggregate demand for warehousing and movement of the growing export goods and import business of the industrial enterprises in the State. The first phase of this depot is likely to be operational soon. He told that Telecommunication infrastructure in the State is one of the best in the entire country and added that state has good road connectivity .He said that state is power surplus state and all villages in the State have been fully electrified. He said that State has strong network of Government, private and public schools, some of which are known all over the world which offer quality education and has an equally strong network of technical institutes, colleges and universities all over the State, which are capable of producing the required skilled manpower.
Prem Kumar Dhumal said that State Government has given top priority to rapid and balanced industrialization of the State with the main objective of creating employment opportunities and economic development on a sustainable basis. He said that State Government has provided various incentives to promote setting up of new industries in the post – Incentive Package regime and added that a rebate of 5 % on the Electricity Duty for a period of five years is being provided to all new Industrial units coming up in the State w.e.f. 1.4.2012 and added that State Government is Levying concessional rate of VAT @ 5 % on industrial inputs, raw materials and packing materials w.e.f 23/11/2012.
He invited the industrial houses to set up units based on information technology and Software development in the State and told that few complexes are being devoted exclusively to promote specific industries like IT, BT and electronic units to ensure a non-polluting and eco-friendly environment. He said that state govt has considerably simplified the procedure for the transfer of land for industrial purposes which has made possible for the State Government to permit transfer of private land for industrial/tourism/hydel power projects within a very short period.
Chief Minister said that State Government has taken up various new projects under the Public Private Partnership to improve facilities for industries including the Implementation of "Pharma & Allied Industries Cluster" at Baddi at a cost of Rs 80.50 crore under which a Common Effluent Treatment Plant (CETP) at a cost of Rs 23.80 crore and a Skill Development Centre at a cost of Rs 8.50 crore are being set up. He said that Working Men & Women Hostels are being set up in PPP Mode at a cost of Rs 23 crore in association with Baddi-Barotiwala-Nalagarh Industries Association and Himachal Drugs Manufacturers Association. He said that of Baddi Trade Centre & Club House is being set up to provide marketing facilities to Industries at a cost of Rs 10.81 crore and a Mini Tool Room is being set up at an estimated cost of Rs 18.82 crore with the objective to provide technical guidance, to impart Training to users, to provide training in replacement/ repairs of productive technical equipments i.e. Moulds, Jigs, Dies, Parts of Pharma Machinery etc. and to develop/ set up R&D Centre for enhancing productivity through Product Development, Product Design etc.