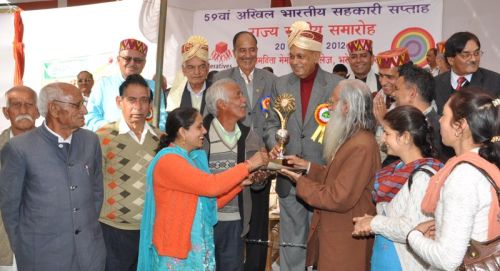 In the state level celebration of 59th National Cooperative Week at Bhareri in district Hamirpur, Chief Minister said that the State Government has ensured women participation for strengthening the co-operative movement and had provided 33 percent reservation to them in the management committees of the societies.
During the occasion, CM honoured Chander Mohan Thakur, Chairman, HP State Co-operative Bank with Best Cooperator Award. Besides, Talai Gram Sewa Sahkari Sabha Simit, Talai, district Bilaspur with First, The Dadhol Krisi Sewa Sahkari Sabha Simit, Padyalag, district Bilaspur with Second and The Dabala Krishi Sewa Sahkari Sabha Simit, Kothi, district Bilaspur with Third Prize for their outstanding achievements in the co-operative sector during the year 2010-11. He also honoured toppers in Diploma in Cooperative Management and first and second position holders of Cooperative Management Centre, Garli and Mashobra.
Chief Minister said that as compared to 843 co-operative societies with membership of 25 thousand, during First Five Year Plan the State now had 4,653 societies with 15.01 lakh memberships who had share capital of Rs. 227.82 crore, deposits to the tune of Rs. 11,786.88 crore and working capital of Rs. 15,912.30 crore. He said that the societies had released short and mid term loans to the tune of Rs. 5,100.28 crore and long term loans for agriculture and non-agricultural activities, amounting to Rs. 68.69 crore to bring about socio-economic reforms amongst farmers, horticulturists and other weaker sections of the society. He said that cooperative societies had been instrumental in making people available consumable commodities valued at Rs. 174.67 crore under public distribution system besides fertilizers, seed, fungicides and other agricultural implements during preceding year. He said that additionally, cooperatives had marketed farm and horticulture produce to the tune of Rs. 76.30 crore to ensure remunerative price of their produce.
Prof. Dhumal said Self Help Groups (SHG) had been constituted through cooperative banks and out of 61,664 SHGs, 75 percent were that of women. He said that the second phase of Integrated Cooperative Development Project (ICDP) had also been launched in the districts of Hamirpur, Bilaspur and Sirmour at a cost of Rs. 35.47 crore adding that approval in principle had been accorded by the National Cooperative Development Corporation, New Delhi, to also launch the second phase in Kangra, Kullu and Shimla districts which would ensure financial provisions of Rs. 87.31 crore.
He said that cooperatives had been contributing significantly towards strengthening the public distribution system in the state and in providing people cost effective essential commodities near to their home. He said that State had increased support price over milk to the tune of Rupees seven per litre and Milk powder manufacturing plant had been made operational in Dutt Nagar near Rampur.
Prof. Dhumal said that interests of the common man, farmers and other weaker sections of the society were dear to the State and would not allow Foreign Direct Investment (FDI) in any sector in the State which would directly render large number of petty traders jobless. He said easy loans at low rate of interest was being provided to the farmers and loan facilities to local entrepreneurs in hydro power sector were also being made available through cooperative banks. He said that unorganized labour had been entitled to avail insurance of Rs. 30,000 besides pensionary and many other financial benefits in the event of any eventuality.
I.D.Dhiman, Education Minister, welcoming the Chief Minister said that in year 1880 Lord Rippon had been instrumental in enactment of cooperative law in Britain and in India the movement started in 1904 which was pioneered by Late Hira Singh in 1892. He said that almost 25 percent of the population of the State was directly and indirectly associated with cooperative movement.
Ashok Dobhas, Member of Governing Council, National Cooperative Union of India (NCUI), also lauded efforts of the State in strengthening cooperative movement.
Chander Mohan Thakur, Chairman, HP State Cooperative Bank said that cooperative movement was taking new dimensions keeping in view the emerging global trends in the sector. He said that HP State Cooperative Bank had ensured its position amongst the top first three cooperative banks of the country where latest and online banking facilities were available to its customers. He said that electronic money transaction facility was available to people in any part of the country.
Ajit Chauhan, Chairman, HIMCOFED, welcomed the Chief Minister and other dignitaries on the occasion. He said that the cooperative movement in the country had emerged the biggest movement in the world with 25 crore members and six lakh cooperative societies.
K.K.Kaushal, former MLA and Director HIMCOFED, Rasil Singh Mankotia, Chairman, Kangra Central Cooperative Bank, Des Raj Sharma, President, District Hamirpur BJP and Chairman, HP State Cooperative Employees Federation, M.C.Parmar, CMD, Ex-Servicemen Welfare Corporation, Mohan Joshi, Chairman, MILKFED, Joginder Verma, Chairman, HP State Construction Workers Welfare Board, Santosh Saini, Chairperson, HIMFED, Pyare Lal Sharma, Chairman, APMC, Joginder Guleria, Chairman, Kangra Agricultural Rural Development Bank, Anil Thakur, President, Bhoranj BJP Mandal, and senior officers of different departments were present on the occasion.