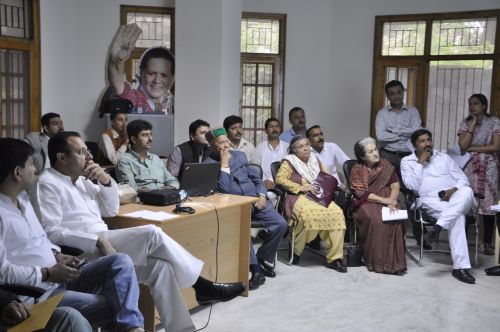 Himachal Pradesh Congress is gearing up for the upcoming assembly poll and its frontal organizations have started to work unitedly in this regard. State Congress publicity committee hold meeting at Rajiv Bhawan Shimla, in which it's Chief Viplav Thakur, HPCC president Virbhadra Singh, CLP leader Vidya Stokes and other members of the committee participated.
Publicity committee discussed the all important aspect of party publicity for the assembly poll and charted out its strategy for all assembly segments. Publicity committee chief and senior Congress leader from merged area, Viplav Thakur claimed that Congress will form the Govt and Publicity committee will play important role in it.
Viplav Thakur is know for her organizational acumen and prior it, she had successfully executed party responsibility in parliamentary election in Uttarakhand and assembly election in Haryana, where Congress gain remarkably and now she seems upbeat to repeat her remarkable track record in Himachal Pradesh assembly election as well. Viplav Thakur is one of the senior Congress leader from Himachal and as its others senior leaders Virbhadra Singh, Vidya Stokes, Kaul Singh and others are contesting election and therefore Thakur will have to play vital role to keep state congress united and will have to publicize party manifesto positively to the electorates. Her work will also be challenging as Congress led UPA Govt is accused for the many scams by oppositions and recently even BJP led opposition had stopped function of parliament over infamous Coalgate.