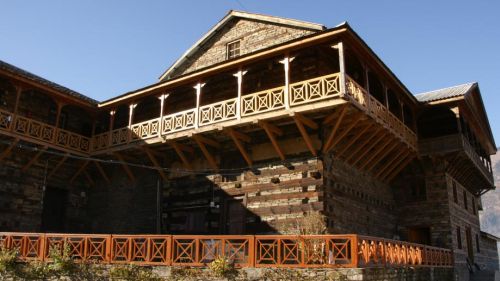 Chief Secretary S. Roy announced that The Castle Naggar Hotel of H.P. Tourism Development Corporation (HPTDC) in Kullu valley has been awarded with Heritage Status. He said that Ministry of Tourism, Government of India has notified Castle Naggar under Heritage Status.
Naggar, the royal seat of Kullu State remained its capital for about 1460 years. The castle is traditionally believed to have been built by Raja Sidhi Singh in early 16th century. The stones for construction were brought from Gharhdhek of Baragarh across the river Beas. Another belief is that stones were passed on to the site by a human chain of men and women from the ruins of the fortified Palace of Rana Bhosal called Gharhdhek situated below the present Baragaon village. The two main doors of the Castle have been made by the use of axe. No metal or iron has been used in their fixing. The wooden beams used in the walls have been prepared from whole trees.
The Naggar Castle was used as a royal residence and State Headquarter until the middle of the 17th century, when Raja Jagat Singh transferred the capital to Sultanpur (Kullu). However, Castle continued to be used as a Summer Palace by subsequent rulers until the British took over the whole of Kangra and Kullu from Sikh's in 1846, when Raja Gyan Signh sold it to the first Assistant Commissioner, Major Hay, for a gun. The latter converted the northern wing to the European way of living by putting in staircase, fireplace and chimneys. He later sold it to the Government when it was used as a Court House. In 1947, with the departure of the British, the Court activity ceased but its door remained open for visitors and travellers as it was converted into a civil rest house.
Chief Secretary said that the Naggar Castle was a unique medieval mansion made of wood and stone. Built in local architecture named 'Kathloonmi' (combination of stones and wooden beams), the castle in its courtyard has a small historical temple called 'Jagti Patt' which was revered as the judgement seat of Kullu Gods. This temple gives yet another dimension to the beauty of the Hotel Castle, Naggar. It also has a small Art Museum. In 1978, the Naggar Castle was handed over to the Himachal Tourism Development Corporation to run as a Premium Hotel. Later, the Castle was renovated/upgraded while keeping its heritage structure impact.
Managing Director of HPTDC Lokender Singh Chauhan said that by getting Heritage status for the Castle Naggar from Government of India, Ministry of Tourism is another feather in the cap of Corporation and would be on the global map and able to attract more and more foreign tourists.