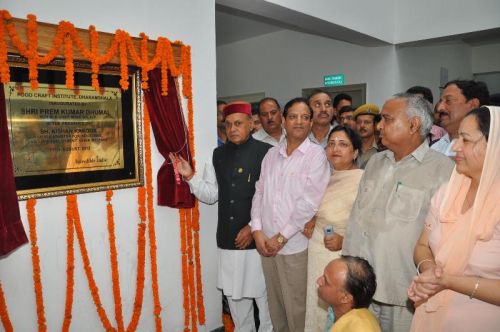 Chief Minister Prem Kumar Dhumal inaugurated and laid foundation stones of various developmental projects worth Rs. 26 crore at Dharamsala in Kangra district today which includes inauguration of Rs. 8 crore Administrative Block, Rs. 5.58 crore Food Crafts Institute, Rs. five crore Synthetic Track, Rs. 1.75 crore Forensic Lab, Rs. 87 lakh Transit Hostel for Second battalion of IRB and Rs. 62 lakh Shopping Complex of Zila Parishad. He also laid foundation stones of Parking complex to be constructed at a cost of Rs. 1.90 crore, Rs. one crore office of Joint Director, Prosecution and a pavilion of around Synthetic Track to be constructed at a cost of Rs. 91 lakh.
Addressing a public meeting at Khaniyara in Dharamsala, Chief Minister said that the Food Crafts Institute would go a long way in training youth of the State in the field of hospitality. He said that the first phase 90 youths would be provided training in food and beverage services, front office and house keeping adding that a self employment programme would also be started in the institute.
Chief Minister said that Dharamsala was on international map due to sports and tourism activities. He said that apart from constructing synthetic track in Dharamsala, a similar track had been constructed at Hamirpur for boosting sports activities. He said that Rs. four crore indoor stadium had also been constructed in Dharamsala.
Prof. Dhumal said that a newly constructed forensic lab would facilitate training in biology and serology, chemical and toxicology including questions and documentation which would go a long way in checking the crime rate. He said that besides all the administrative offices which at present were housed in private buildings would be shifted to the newly constructed Administrative Block.

Chief Minister said that the State Government had ensured uniform and balanced of all areas of the State during last four and a half years and had put in earnest efforts to benefit all the sections of the society. He said that Himachal Pradesh was the first State in the country which was providing subsidized ration to the people of the State on which Rs. 532 crore was spent as subsidy during last four and a half years. He said that Atal Swasthya Sewa was also proving a boon to all sections of the society and after launching of Matri Sewa Yojna there has been an increase in the percentage of institutional deliveries.
He said that Rs. 65 crore 'Atal School Uniform Yojna' had been launched in the State under free uniforms were being given to all the students of governments from 1st to 10th class twice a year including Rs. 100 each as stitching charges to bring uniformity amongst the students. He said that the State Government had distributed 4000 net books to the students on Independence Day who had excelled in matric examinations.
Chief Minister said that Rs. 65 crore was spent under Atal Bijali Bachat Yojna under which four CFL bulbs each were distributed free of cost to the domestic electricity consumers throughout the State which had resulted in saving electricity worth Rs. 110 crore.
Prof. Dhumal said that the State Government was the Government of the common man and keeping in view their role in the development of the society, the State Government had enhanced the daily wages of the workers from Rs. 75 to Rs. 150 and had also increased the social security pension to Rs. 450 per month which was Rs. 200 earlier. He said that the present Government had sanctioned Social Security Pension to 1,08891 new beneficiaries and directed the concerned authorities to dispose off the pending pension cases soon to avoid inconvenience to eligible persons.
He criticised the UPA Government for withdrawing the special industrial package given to Himachal Pradesh much earlier than the stipulated period which was 2013. The Chief Minister alleged that the Union Government was adopting indifferent attitude towards the State as some States were enjoying this special industrial package while Himachal Pradesh was deprived of it. He said that the UPA Government had also reduced the quota of levy sugar, rice and kerosene oil etc thereby doing injustice with the people of the State.
Industries Minister Kishan Kapoor welcomed the Chief Minister and thanked for dedicating and laying the foundation stones of projects worth Rs. 26 crore. He said that the State Government during last four and a half years had provided 75,000 employment opportunities in private sector and 40,000 in government sector.
Ramesh Dhawala, Food and Civil Supplies Minister, Sarveen Chaudhary, Social Justice and Empowerment Minister, Rakesh Pathania, Sanjay Chaudhary, MLAs, Trilok Kapoor, Chairman, Wool Fed, Ghanshayam Sharma, Vice Chairman, Workers and Pensioners Welfare Board, Shreshtha Kaundal, Chairperson, Zila Parishad were present on the occasion among others.