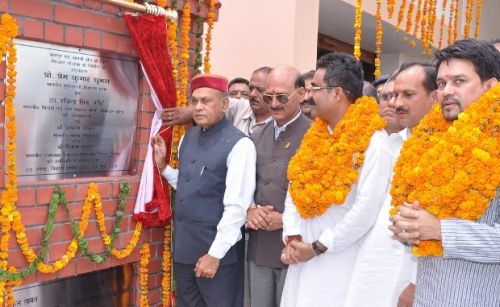 Chief Minister Prem Kumar Dhumal dedicated Jaswan-Pragpur Drinking Water Supply Scheme (DWSS) completed at a cost of Rs. 40 crore. This scheme would benefit a population of about 82 thousand of 91 villages of 38 gram panchayats of district Kangra.
While addressing a public meeting at Machkund Mahadev in Dehra Sub-Division of district Kangra today, Chief Minister Prem Kumar Dhumal reiterated his Government's resolve to provide better services to the people, Chief Minister said that State Government would reward the officers and officials for completing developmental projects before the scheduled time of completion and also ensuring cost effective completion.
He announced a cash prize of Rs. one lakh to the officers and officials of IPH Department for completing the Jaswan-Pragpur Water Scheme ahead of its scheduled date as also completing it in less than estimated cost. He said that Rs. six crore 'Cage Culture Scheme', under fisheries would soon be launched in the area.
Prof. Dhumal said that Atal Bijli Bachat Yojna, Atal Swasthya Sewa, Matri Seva Yojna and Mother Child Mobile Tracking Scheme were some of the ambitious schemes which were directly benefitting the people of the State, especially the women. He said that every ration card holder was being provided subsidized six commodities by spending Rs. 130 crore annually for the same, irrespective of their social and economic status. He said that Atal Bijli Bachat Yojna had saved on electricity bills of domestic consumers to the tune of Rs. 110 crore in one year, while free ambulance service under Atal Swasthya Sewa had saved lives of many. He said that the State Government had contested in courts to make saw mills functional in the State to create self employment avenues to the people. He said that the State Government was committed to implement the report on Benami land transactions presented by Justice Sood Benami Land Deals Commission.
Chief Minister said that the State had launched 'Yashwant Gurukul Awas Yojna' to provide free lodging facilities to teachers working in tribal and difficult areas which was a tribute to the founder of Himachal Pradesh and first Chief Minister of the State, late Dr. YS Parmar. He said that Rs. 126 crore Sarswati Bal Vidya Sankalp Yojna had been a great success since every primary school in the state were provided with three roomed pucca accommodation during previous term of 1998-2003 of BJP. He said that Atal School Uniform Scheme had also been launched to provide two pairs of school uniform during each academic session to every students from first to tenth class free of cost alongwith stitching charges, to benefit over 10 lakh students each year. He said that Rs. 64 crore was being spent over the scheme.
Prof. Dhumal said that mini secretariat; three sub-divisional office buildings had been constructed during BJP regime in the district besides opening National Institute of Fashion Technology (NIFT) at Kangra. He said that Disaster Management Battalion was being set up at Nurpur, Border Security Force (BSF) Battalion at Shahpur and Food Crafts Institute at Dharamshala. He said that the road expansion network in the district had been accorded priority and 205 villages in district Kangra had been connected with motorable roads during past four years. He said that 695 kms of existing roads were improved and tarring of 1006 kms of road done in the district. He said that NABARD projects worth Rs. 11 crore had been sanctioned for the segment besides other new projects to benefit the people with better connectivity and other allied facilities at a cost of Rs. 10.42 crore. He announced up-gradation of GHS Been to Senior Secondary School, Kangra Bank Branch at Seun Khad He said that Jaswan Tehsildar would attend to revenue works at Dada Siba for one week each month. He announced Rs. five lakh for development of Sandal Nursery and Rs. seven lakh for road to scheduled caste habitation. He said that the State Government would consider sympathetically the demand of opening of a degree college in the area.
Chief Minister also distributed financial assistance on behalf of the Himachal Pradesh Building and Other Construction Workers Welfare Board, to 22 beneficiaries. Chief Minister was also presented a draft of Rs. 9.61 lakh by officers of IPH Department as contribution towards Chief Minister's Relief Fund on the occasion. Later Chief Minister also dedicated newly constructed Mini Secretariate building at Dehra, completed at a cost of Rs. four crore and Lawyers Chamber, completed at a cost of Rs. 32.5 lakhs.
Ravinder Singh Ravi, IPH Minister, thanked CM for dedicating Rs. 40 crore DWSS six months ahead of its scheduled date. He said that 14 tube wells had been bored to feed the scheme. He said that 2,500 hand pumps were being bored during current financial year.
Ramesh Dhawala, Food, Civil Supplies and Consumer Affairs Minister, also welcomed the Chief Minister to his home segment and thanked him and IPH Minister for dedicating Rs. 40 crore DWSS to the people of the area at peak summer season. He thanked CM for providing a subsidy of Rs. 130 crore per annum to subsidize essential commodities being provided to ration card holders through retail outlets all over the State.
Anurag Thakur, MP Lok Sabha and National President, Bhartiya Janta Yuva Morcha, said that price rise was a Centre subject which had failed miserably in checking the same. He said that prices of essential commodities had increased manifold during past years. He appreciated Atal School Uniform Scheme of the State Government. He announced Rs. 30 lakh for Jaswan-Pragpur out of MPLAD funds to carry various development activities.
Satpal Singh Satti, MLA and President, State BJP, said that BJP had factually made democracy functional through its policies and programmes benefitting all sections of society. Kripal Parmar, former MP and Vice Chairman, HP State Marketing Board, also welcomed the Chief Minister and other dignitaries.
Vikram Thakur, former MLA and Vice Chairman, HP State Forest Corporation thanked Chief Minister for providing liberal funds towards developmental activities in the area. Rakesh Pathania and Sanjay Chaudhary, MLAs, Joginder Verma, Chairman, HP Building and Other Construction Workers Welfare Board, Balram Sharma, Chairman, H.P. Board of School Education, R.S.Mankotia, Chairman, Kangra Central Cooperative Bank, Trilok Kapoor, Chairman, Woolfed, Shreshta Koundal, Chairperson, Zila Parishad and prominent people of the area were present on the occasion.