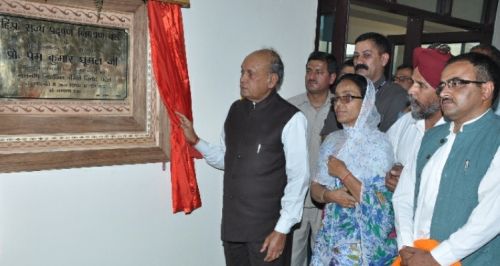 Baddi-Barotiwala-Nalagarh Development Authority (BBNDA) would ensure implementation of complete ban on plastic and plastic waste within its jurisdiction and make industrial area plastic free.
This was stated by Prem Kumar Dhumal, Chief Minister, while addressing the congregation during the inaugural ceremony of Pollution Control Board Building at Baddi, constructed at a cost of Rs. 2.25 crore. He also laid the foundation stone of Expansion and Renovation of GSSS, Baddi, estimated to cost Rs. 55 lakhs and planted saplings to develop Navgrah Vatika at Jharmajri, in Baddi-Barotiwala area of district Solan today.
Prof. Dhumal said that Rs. 63 crore had been sanctioned for various developmental activities in Baddi-Barotiwala-Nalagarh Development Area (BBNDA), out of which projects worth Rs.27 crore were in progress. He said that 10 roads had been improved and completed at a cost of Rs. 13 crore while another 12 new roads had been completed at a cost of Rs. 2.6 crore. Besides, 11 more roads had been repaired at a cost of Rs. 1.5 crore to ensure smooth movement of vehicular traffic. Apart from this, Lift Water Supply Schemes for Baddi-Manpur, Barotiwala and Bhullarwala were also being improved to facilitate the residents in industrial area. He said that Rs. 9.5 crore Detailed Project Report for Solid Waste Management Plant had been approved. He said that Rs. 27 crore had been spent for development of green-belt on Baddi-Barotiwala road while crores of rupees had been spent on developing parking slots and other required infrastructural facilities for the industrialists in the area.
Chief Minister said that the State Government had decided to collect the plastic waste by purchasing the same at the rate of Rupees three per kilogram. Besides, providing handling charges of Rupee one per kg to urban local bodies and gram panchayats so that the same could be mixed with bitumen and used for mettling of roads. He appealed to the people not to litter plastic waste and instead sell the same to local public works department office so that the same was used in road construction after shredding process. He thanked the people of the State for contributing significantly towards conservation of the environment by co-operating in making the ban successful imposed by the State Government on plastic items.
Prof. Dhumal said that the State Government had been making concerted efforts to deliver all required facilities to industrialists in industrial area of BBNDA. He said that the State Government had declared the area as separate police and excise district besides opening tehsil, PWD, IPH and HPSEB offices so that the entrepreneurs were not required to visit other places to get their grievances redressed. He said that he had personally been visiting industrial area to listen to grievances of entrepreneurs.
He said that the State Government would be ensuring minimum discharge of 15 percent water by hydel projects down-stream so as to cater to drinking water and irrigation needs of the people.
Chief Minister appealed to the entrepreneurs to help maintain hygienic conditions in the industrial area and check use of plastic material. He said that although there existed legal provisions to impose the ban strictly but it would be in the interest of the entrepreneurs to implement the same voluntarily.
Prof. Dhumal said that with the opening of the Pollution Control Board office in the industrial area all required services would now be available to industrialists locally. He also appealed to the industrialists to lend their supportive hand by donating liberally towards social causes and Chief Minister's Relief Fund. He assured the industrialists of best industrial friendly environment in entire state of Himachal Pradesh and at the same time requested them to provide employment to local people and protect environment as well.
He made an appeal to the people to revert back to the traditional practice of animal rearing since the Pahari species of animals were most suitable for the ecology and environmental conditions of the State besides carrying invaluable medicinal and nutrient values in their yield. He expressed concern over the practice of abandoning domestic animals and leaving them astray which was contrary to the religious and moral values of rich cultural heritage of the country.
S.Roy, Chief Secretary and Chairman, Pollution Control Board, thanked Chief Minister for inaugurating much needed pollution control board office to facilitate entrepreneurs in BBN area. He said that Himachal Pradesh ranked at second position in controlling pollution in the country. He expressed concern over the practice of plastic waste being dumped in streams in the area and increasing pollution level due to movement of vehicles. He assured the entrepreneurs of restoration of electricity supply to the industrial area by removing bottle necks in distribution system. He appealed to the industrialists to cooperate in implementation of the pollution control initiatives of the State Government.
Sanjay Sood, Member Secretary, HP State Pollution Control Board, apprised Chief Minister of various activities being undertaken by the Board to deliver efficient and time bound services to the industrialists. Master Shubham Kumar, a local school student, deliberated upon necessity of environment protection.
Vinod Chandel, local MLA, Dr. Rajiv Saizal, MLA and President, District Solan BJP, Gobind Sharma, MLA, Arki, Laj Kishore Sharma, Chairman, Joginder Cooperative Bank, Meera Mohanty, Deputy Commissioner, Gurdev Sharma, SP, Hans Raj Sharma, CEO, BBNDA, Dr. Rajender Singh, Industrial Advisor, representatives of different industrial organizations and prominent people of the area were present on the occasion.