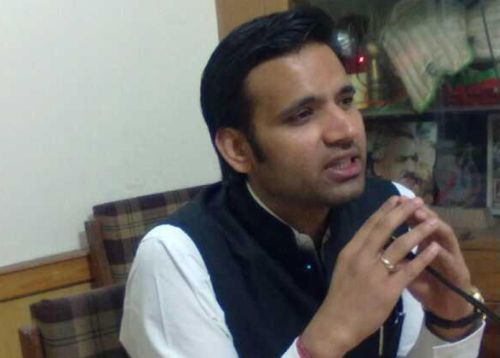 To live with the expectation for introducing democratic approach in Congress setup, Youth Congress leader Raghubir Singh Bali has began his campaign from Shimla today. He holds a press conference at Press Club Shimla and explained his further programme with them. He said that press is a strong pillar of democracy and its active role is necessary to make it fair and better for all. He started his conference with praising words for Rahul Gandhi and thanked him for introducing democratic process within the party and hopeful for youths' active role for the development.
Raghubir Singh Bali said that as he had promised during his campaign for the active participation of youth in the party affair, he said that his team will actively add more and more youth in the system and by the next year its registered members will be two fold of its present count. He said that he will work to strengthen the party base from grassroots' level and will help its workers to grow in the system.
He said that his main agenda is to create employment in State and his team is regularly identifying the all possible sources to create additional employment in the State. He criticised Govt for regularly diminishing employment chances in State and added that Locals' are not getting its due from industries set up in Himachal Pradesh. He said that all company are bind to give 70% employment in unit and it does not mean that they should make its necessary quota by giving jobs as laborers, but he said that Youth Congress will forced to include managerial post within the quota.
He stressed for the Agriculture and Horticulture based industries in State, so that they will survive their own. He said that Himachal Pradesh can have healthy industries related to the fruit Juices, Mineral water plants as state has abundant of untapped natural resources. Tourism can be another big sector for employment as it has big opportunity to flourish. Raghubir Singh Bali said that we need investor to come to State to explore new tourism related activities. Investors are willing to invest in State as it offers wonderful environment and low cost electricity apart from lively natural beauty, he added.
While asking the Youth Congress activities, Raghubir Singh Bali said that Youth Congress will organise medical camp across the State, in which treatment will be free of cost for the needy people. He added that for the better prospect of student, youth congress members will hold career counseling for the students in state so that they make right choice for their career.
Like its senior Congress leaders, he criticised private universities and said that party is not against these universties, he believed that premier education is necessary for the better future, but added that Govt is killing locals' share. He demanded fair share for the financially backward in these universities.
In youth Congress setup, he rubbished any factionalism and said that Monika Bharti is youth Congress leader and its all members will help her for the better functioning in its routine. He also urged media to give credit to Goldy Chaudhary for his good performance in the last election where he get 489 votes, which were even better to the Youth Congress previous president Manmohan Singh Katoch tally. He denied any linkage with Goldy and said that I haven't given any support to him in the election; it was his hard work and his reputation of NSUI days. He said that all Congress senior are working to strengthen party base in their own way and it will help party in the coming election.