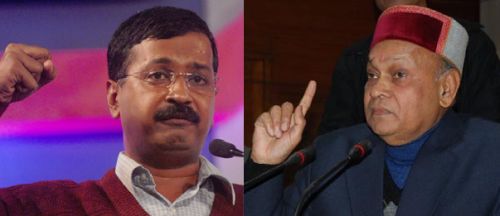 Much touted meeting on Lokayukta bill between Arvind Kajrival and Himachal Govt falls with a bitterness as Kajrival termed existing bill as "very weak and ineffective".
With the present form of Bill, Kejriwal questioned State's commitment to fight corruption, saying it appeared BJP and Congress were on the same page on the legislation. Kejriwal described Himachal's Lokayukta bill as "very weak and ineffective" and also asked whether BJP was disowning the "strong" law passed by a BJP-led government in Uttarakhand earlier this year by bringing such a bill in the state.
"The Bill is very weak, ineffective and seeks to provide illegitimate protection to corrupt people rather than punish them. Rather than adopt the strong model of Uttarakhand, Himachal government has adopted many of the controversial provisions of central government. This is unfortunate. Does it mean that BJP disowns its own Uttarakhand Bill? Does it also mean BJP and Congress are on same page on some of the controversial provisions of central bill?"
His reaction came as Himachal Pradesh government cancelled a function scheduled here this morning to present a copy of the Lokayukta Bill to the activist. P C Dhiman, principal secretary (Home) was to present a copy of the Lokayukta Bill to Kejriwal. A senior government official did not give reasons for the cancellation but claimed that the programme is rescheduled and it will be held in a couple of days.
Earlier BJP was riding high with the Lokayukta Bill, but now with the new development, Govt will have to face some bitter realities. Opposition is already boycotting its Health Minister socially for alleged corruption, pulse scam and many private universities in state is also getting negative attentions from its opponents. Amidst such development BJP can concede political advantage to opposition in the election year. BJP has claimed its keenness for the strong Lokayukta Bill in State, but Kejriwal's harsh words can dent its claims publicly.
However, Chief Minister seems unfazed from his criticism as he said that Kejriwal has a right to his opinion, but it does not indicate that BJP Govt is not in the favor of strong bill. CM clear that Govt has invited suggestions from all sections of the society, including Team Anna, and will form right law in the favor of state and country.