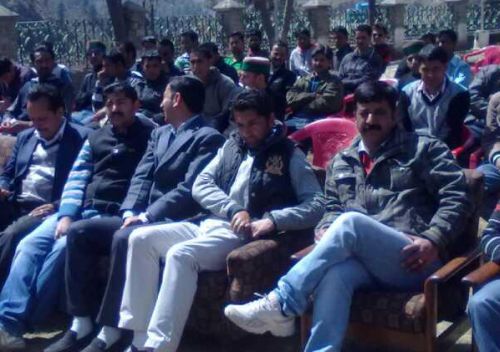 Elected members of Shimla Youth Congress started there proposed door to door campaign from Rohru town. Shimla Lok Sabha (LS) president Manish Thakur, who is first elected youth congress president from Shimla LS leads the campaign. Many senior leaders of Congress party from Rohru region also took part in it and appreciated the move from youth congress members. While addressing the youth congress members, Manish Thakur urged them to come forward and become the part of the development of the region.
Manish Thakur said that his team will ensure to meet every single youth of the Shimla constituency and will listen there problem and also take advise from them to ensure their inputs for the development of the particular region.
While addressing youths, Thakur also take on ruling BJP government and blamed them for the biased attitude towards Shimla, Solan and Sirmour districts, where dilapidated roads and decaying other basic facilities are the live example of it. He said that widening work of Rohru-Theog road was started by the Congress Govt and even after four years of BJP Govt ruling, it has been deteriorated to the roads of deadly path-holes, where in every month a major accident happened. He also pointed out at the linked roads and added that they are also in deplorable position.
Thakur said that after this door to door campaign, Shimla youth congress body will held strike in all major town against the misrule and misadministration of the present government. After it, Youth congress body will begin its campaigning in all seventeen assembly segments in Shimla LS constituency and will ensure the win of congress candidates from there. He also announced that youth congress will organize health camps at various places in Shimla LS constituency.
It is first of its kind campaign started by the youth congress representatives, where they are taking responsibility to strengthen the party base among the young voters. Sanjay Thakur, General Sec Youth Congress Shimla LS, Vijay Chauhan, President Rohru Youth Congress, Rakesh Negi, Vice President Rohru Youth Congress, Ravi Chauhan, Lalit Sagar and Susheel Kumar, all Gen Sec Youth Congress Rohru among other activists were present at the first day of campaign.