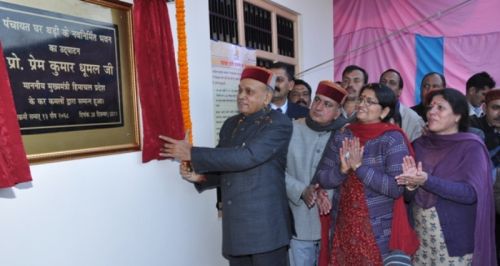 Chief Minister Prem Kumar Dhumal said that development of the rural areas was utmost priority of the State Government and various developmental schemes had been launched for the socio-economic upliftment of rural areas.
Chief Minister was addressing a mammoth gathering in Panchayat Thadi, near Shimla after inaugurating the Public Works Department Office and Residencial Building constructed at a cost of Rs. 46 lakh and PHC Building constructed at the cost of Rs. 77 lakh at Shoghi and Panchayat Bhawan constructed at a cost of Rs. 13.44 lac at Thadi.
He said that ambitious schemes like Rs. 353 crore Pt. Deen Dayal Kisan Bagwan Samridhi Yojna and Rs. 300 crore Doodh Ganga Yojna had been launched to strengthen the agrarian economy by the State Government. The Self Help Groups were being benefited through Doodh Ganga Yojna under which they were being given subsidy to buy milch cattle. He exhorted rural people in general and rural women in particular to come forward for rearing milch cattle, which would help in their social and economic upliftment. Dhumal said that with a view to reduce urbanization, the State Government was strengthening roads, education and health infrastructure in rural areas. State Government was providing subsidy on electricity benefitting 1650 lakh consumers in the State by bearing burden of Rs. 166 crore. He further said that subsidized food grains were also being provided to all the consumers irrespective of their economic standard and Rs. 150 crore were being spent on it.
To fulfill its promise of women empowerment, the State Government reserved 50 percent seats for women in Panchayati Raj Institutions and Local Bodies and 58 percent women had been elected to these Institutions, he added. State Government was taking necessary steps to check female foeticide and urged the people to come forward for curbing their menace from the society.
Chief Minister said that all basic facilities would be provided in PHC Shoghi and added that sewerage system would be developed in the Industrial area of Shoghi and irrigation facility would be provided to the people of the Panchayat Thadi. He said that 35 new hamlets have been provided potable water in Kasumpti area and 92 hamlets would be provided this facility by the end of of this financial year. A Technical Training Institute would be set up in Nandpur Panchayat after the availability of land. He announced 10.10 lac additional budget to clear the liability of Panchayat Bhawan Thadi.
Dr. Rajeev Bindal, Health & Family Welfare Minister said that Mother Trekking Scheme had been launched in the State with a view to provide health care to the pregnant women and it had been started from Shahpur Block of Kangra District on pilot basis. He said that Institutional Delivery facility was also being provided to the women in the State. He said that the Atal Swasthya Sewa had emerged a boon to the poor and needy critically ill patients who were being provided free of cost ambulance facility. He said that free institutional delivery facility was also available to the pregnant women in the state who besides free treatment were also being provided cash incentive of Rs. 600. Sohan Lal, local MLA highlighted the local problems. Ishwar Rohal, BDC Chairman, Mashobra, also spoke on the occasion.
Hari Mohan Sharma, Member of Planning Board and Asha Kashyap, President, Gram Panchayat Thadi welcomed the Chief Minister and detailed out the various problems and achievements of the Pachayat. Suresh Bhardwaj, MLA, R.D. Kashyap, Former Minister, Bhagat Ram Chauhan, former MLA, Veena Thakur, Chairperson, Social Welfare Board, Roopa Sharma, President, State BJP, Tarsem Bharti, BJP leader and H.N. Kashyap, Convener State BJP and other prominent people of the area were present among others.