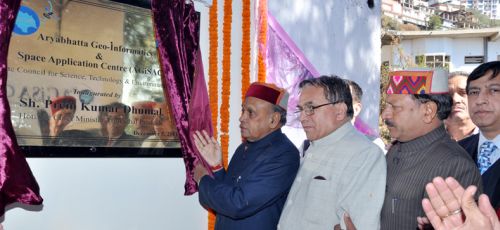 Chief Minister Prem Kumar Dhumal inaugurated Aryabhatta Geo-Informatics & Space Application Centre (AGiSAC) set up in technical assistance with Bhaskaracharya Institute for Space Applications and Geo-Informatics (BISAG)' Gujarat, a model of inter-state technical collaboration and partnership at Panthaghatti.
Speaking on the occasion, Chief Minister said that the Centre would cater to studies relating to the change in climate and formulation of polices to reduce the impact of the same in a scientific manner and to take benefit of geo-informatics application in decentralized planning and decision making. He said that spatial information had been playing vital role in planning process for effective implementation of various developmental activities. He said that the objective of the AGiSAC was to facilitate decentralized planning for the State Centre, to monitor and evaluate Government schemes and programmes; develop integrated natural resources data management system; provide services/consultancy based on specific user needs in the field of Remote Sensing and GIS; wider usage of geo-spatial applications through simultaneous support systems/software and to promote use of SATCOM networks for distant interactive training and education in the State.
Chief Minister said that nine departments had been roped in to avail AGiSAC services in the first phase to take benefit of the geo-informatics tools and technologies to carry developmental planning through monitoring and evaluation and presentation of database in spatial visualization and management. He said that in next three months nine more departments would be included to take benefit of it. He said that different departments need to understand the utility of the geo-informatics and adopt the same for decision making. He said that the State Government was implementing sustainable development policy so that environment was also protected besides carrying developmental activities forward. He said that Himachal Pradesh had emerged the first State in the country to prepare inventory of green house gases emission and estimated carbon emissions in energy, industry, transport and tourism sectors. He said that the State had been Awarded Prime Minister's Award for Excellence in Public Administration for sustainable plastic management which had further enhanced the responsibility of the State to more ahead in protecting environment. He said that there was complete ban on use of plastic and polythene carry bags and poly-roads were being constructed out of plastic waste besides launching Polythene Hatao-Paryavaran Bachao campaign.
Chief Minister added that the State had formulated Environment Master Plan, created Himachal Pradesh Environment Fund, launched Community Led Assessment, Awareness, Advocacy and Action Plan (CLAP), introduce nine point environment protection code for school children, launched Green School Assessment Programme and Eco-monitoring and Environmental Auditing Programme. He directed the authorities to consider mobile policy formulation and regular updating of the information so that latest information was available to the people. He expressed gratitude towards the Government of Gujarat for their support in launching the project in the State and hoped that the collaboration would help in furtherance of the programme to reach logical conclusions.
Chief Secretary Rajwant Sandhu detailed the initiatives taken by the State Government towards digitization of the revenue records to deliver people online services. She said that the State had constituted nodal team to monitor and evaluate the progress in the computerization process. She said that with the launching of AGiSAC effecting mapping of different cases would be possible. She said that more departments would be brought under the zone of operation of the AGiSAC. Ravi Saxena, Additional Chief Secretary, Gujarat, appreciated the initiatives of the State Government for creation of robust information technology system through different modes down to the village level. He said that AGiSAC would be service provider and strengthen the communication system in the State. S.Roy, Additional Chief Secretary, Environment, welcomed the Chief Minister and introduced the audience to the AGiSAC and said that it would be a modern technological tool for development information systems, developmental planning, decdision support applications, advisories and alerts, surveillance and regulatory applications, monitoring and evaluation of developmental works and schemes besides GIS Mobile applications.
Dr. T.P.Singh, Director BISAG and Dr. Nagin Nanda, Secretary and Director, Department of Environment, Science and Technology, gave a joint presentation on the programme. Dr. Rajiv Bindal, Health Minister, Suresh Bhardwaj, MLA, Ganesh Datt, Vice Chairman, HIMUDA, Madhu Sood, Mayor, Municipal Corporation, Shimla, Additional Chief Secretaries, Vice Chancellor, Dr. YS Parmar University of Horticulture and Forestry, Chairman, Private Universities Regulatory Commission, principal secretaries, special secretaries, Heads of the departments and senior officers of various departments were present on the occasion.