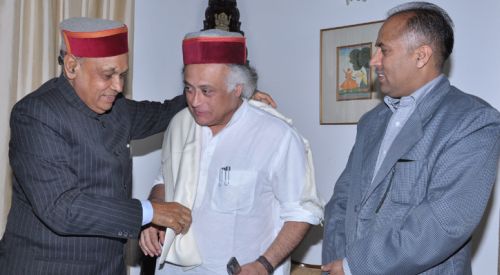 Chief Minister has urged the visiting Union Rural Development Minister, Jairam Ramesh to make norms under MNREGA more flexible keeping in view the difficult hilly terrain and topographical conditions including high cost of construction of development projects in hill States. The issues were discussed in a high level meeting held here today.
Chief Minister requested the Union Minister to provide requisite number of days of works to the job card holders as per their demand. He said that the Act provides for enhancement of livelihood security in rural areas by providing atleast 100 days of guaranteed wage employment in a financial year to every household whose adult members volunteer to do unskilled manual work. He said that the number of days needed to be enhanced substantially and to begin with, benefit needed to be extended to the BPL families. He said that the quality of assets created under MNREGA needed improvement. He said that the Act seeks to strengthen the natural resource base of rural livelihood and create durable assets in rural areas. He said that the norms fixed for material cost to wage cost needed to be reversed in hilly areas like Himachal Pradesh as it was difficult to create durable assets with wage and material ratio.
Dhumal said that provision needed to be made to include crop protection under MNREGA as wild animals had been destroying the crops of farmers in the State. Besides, in case of natural calamities, which very often occur in hilly areas, the restoration of damaged assets including buildings should also be allowed to be brought under the ambit of the Scheme as an immediate relief measure. He said that construction of community buildings, like school buildings in rural areas, health institutions and Aanganwari Centres also needed to be included in the Scheme. He raised the demand of constructing pucca path to villages which otherwise were inaccessible by road. He said that under rural connectivity only construction of rural road is permissible but in view of the hilly terrain and Forest Conservation Act, the scope of construction of rural road was limited in the State. Hence, in view of these factors and considering the demand of general public, the construction of rural paths connecting one habitation to another may be allowed under rural connectivity. He also urged the Union Minister to get the NPV (Net Present Value) in road construction projects included as part of the road projects. He also requested the Union Minister to get the already approved Hydro Engineering College to be made functional since there was great demand of trained hydro engineering skilled manpower in the projects.