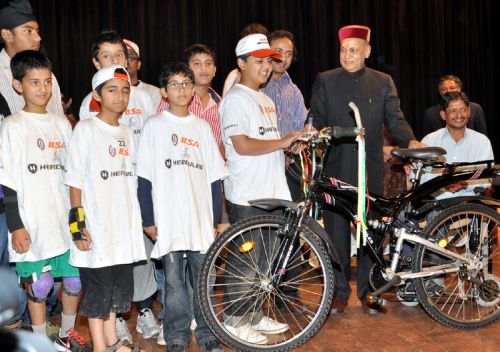 Cycling freaks in town pedaled their way to eco friendly ride on the narrow roads of Queen of Hills on Saturday with much enthusiasm. Their exciting journey culminated in a slow ride on the historic Ridge, where the slowest rider who could balance his cycle to the last position without letting his feet down in a 50 meters stretch was the winner. It was first such event in the town. The spirit behind this "Eco Ride Smooth Tide" was to save environment by encouraging the use of cycles. And it was the brain child of NGO Ashadeep, which had kickstarted its campaign to keep Shimla healthy and green through "Walk Shimla Walk" in May this year. The whole show, in fact, went with the active support of the district administration.
President of Ashadeep Sushil Tanwar said
"We want to inculcate the habit of walking in Shimla folks, and promote the use of cycles in the hill town. This will keep Shimlaites fit, and make the town free of pollution to some levels by reducing the use of vehicles."
He added that cycling habit not only improved the health, but also social security environment and related aspects. He called upon the locals to join the campaign launched by Ashadeep and participate in great numbers to show solidarity in the interest of town. A painting competition was held as a prelude to this eco friendly ride on June 26. And therein also most of the 252 students from 20 schools in Shimla had painted their environment concerns by depicting the significance of cycles. The first second and third winners of this painting competition- Sanjeet Kacchap (St. Edwards school), Gaurav Thakur (DAV Lakkar Bazaar) and Sheetal Pathania (DAV school, Tutu)- were gifted cycles by chief minister, Prof. Prem Kumar Dhumal at a impressive ceremony at Gaiety theatre as a symbolic gesture to promote cycling habit in the youngsters. Other shortlisted candidates were also given away prizes, and all participants got the certificates. Over 80 participants from all walks society, from students to doctors and politicians, turned out to make the initiative of eco friendly cycle rally a success. It was flagged off from Chaura Maidan by deputy commissioner, Onkar Sharma, who appreciated the effort. He said cycling should be promoted in Shimla as its environment friendly. The participants covered a stretch of eight kilometers in town to reach the Ridge.
Participating jubilant students from various schools said
"We were so excited for the event, that we had started practicing for the cycling rally a week ago. It was real fun with a meaningful message. Such activities should be promoted in Shimla in future also."
The winners of the slow race (Pururava Sharma, Shashwat Bali, Vasu Thakur and Sanjay Ranta) on the Ridge were given gift coupens by the chief minister. Eyush Jamwal was awarded for the best decorative bicycle. The prizes for entire "Eco Ride Smooth Tide" were sponsored by a Hercules BSA in association with local sports goods dealer, Amit Sports. They even provided bi-cycles for use at the rally to facilitate some enthusiasts who wanted to participate. Speaking at the prize distribution function, chief minister, Prof. Prem Kumar Dhumal underlined the need for reverting back to old practice of using cycle as traveling mode to keep healthy and protect pristine environment of hilly areas. The chief minister said Shimla is known for its environment the world over and there had been practice of using cycle for local travelling to different places. He said that availability of variety of petrol driven vehicles with time, the cycling practice had ceased to exist. Prof. Dhumal lauded the contribution of Ashadeep which had always been organizing innovative and educative events which were eye openers to the society. He said that it would be in the interests of every individual to actively involve themselves in such campaigns to become partner in showing the way to the society. Prof. Dhumal assured every NGO engaged in such environment protection activities of getting all possible help from the State Government and contributes significantly towards protection of the environment for future generations.