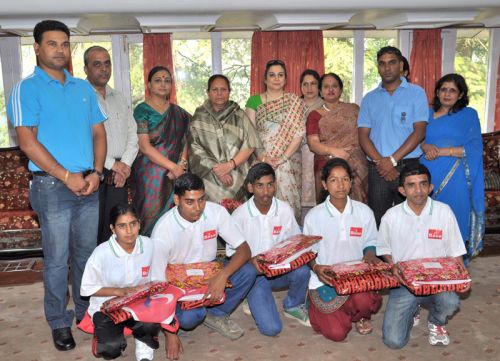 Governor Urmila Singh today gave a warm to Special Athletes selected for World Summer Games being held at Athens in Greece from 25th June, 2011 to 4th July, 2011. Five special children from Himachal Pradesh, Master Pawan Kumar and Sushil Kumar from Bilaspur district, Prabha from Una disrtict, Aman and Ranjana from Solan district have been selected to participate in Athletics, Roller Skating, Bocce, and Hand Ball games in World Summer Games-2011 at Athens in Greece.
Urmila Singh gave her good wishes to these special athletes for their endeavors and she also reminded the Special Olympics Athlete Oath i.e. 'Let me win' but if I can't win, let me be brave in Attempt.'
Earlier also, the athletes from H.P. have brought laurels to the country and State by winning Gold, Silver and Bronze medals in the World Games-2003 held at Dublin, Ireland, in the World Summer Games-2007 held at Shanghai, China and in World Winter Games-2009 held at Idaho, USA. Chairperson of Special Olympic H.P. Branch Mallika Nadda thanked the Governor to give them a warm send off and her good wishes.
As many as 236 special children will participate in this World Summer Games from all over the country.