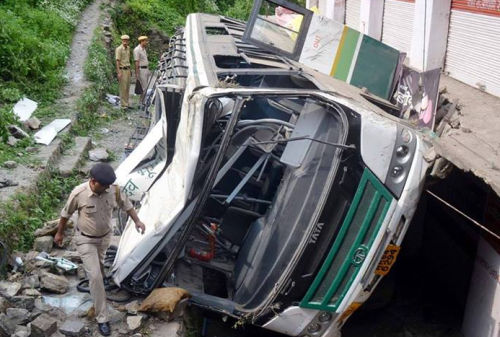 Shimla: Three people died and as many as 30 others were reported injured when a state transport bus HP-64 6294 rolled down from road at Dhiari Ghat, 16 KM from Shimla, on Solan-Shimla highway on Sunday morning.
Immediately local people carried out the rescue operation and later police personnel also reached the spot and extricate the passengers from the Bus. Two women died on the spot while third breathed his last on his way to the Hospital. Injured has been shifted to the nearby IGMC Shimla and Kandaghat Hospital.
To oversee the rescue work, Transport Minister GS Bali also reached the spot and assured all possible help from the government.
Accident happened when HRTC bus driver lost control while avoidimg collision with speeding small car. Bus was rolled down about 20 metre, which was flipped upside down and stopped after hitting the shop.
Later, he also went to IGMC, Shimla to enquire about the well being of the injured and directed the hospital administration to take best care of the injured.
The Transport Minister has also ordered departmental inquiry to find out the cause of the mishap.
Ill fated HRTC bus was it on way to Shimla.
Governor Urmila Singh, H.P Vidhan Sabha Speaker Brij Bihari Lal Butail, Chief Minister Virbhadra Singh, Vice Chairperson of Himachal Pradesh Red Cross Society and Chairperson, H.P Red Cross Hospital Welfare Society Pratibha Singh and cabinet ministers have expressed grief over the bus accident.