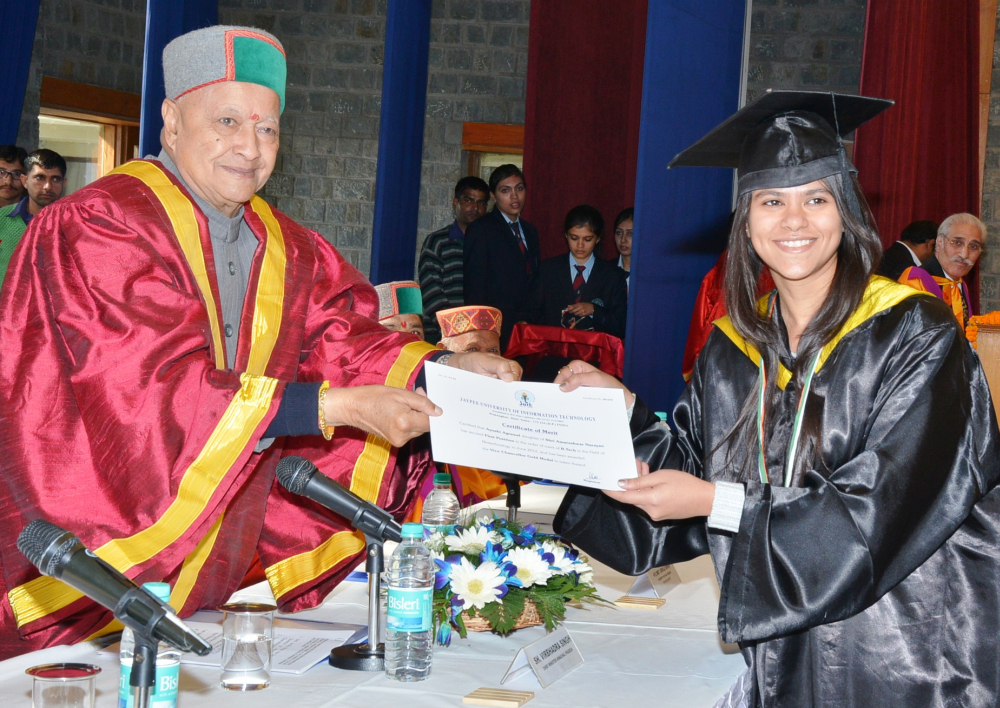 Jaypee University of Information Technology celebrated the 5th Convocation of the University at its Waknaghat campus today.
Governor Urmila Singh, who is also the Chancellor of University, presided over the function and Chief Minister Virbhadra Singh was the Chief Guest on the occasion.
Governor and Chief Minister awarded Masters' and Doctoral Degrees, Certificates of Honour and Gold Medals to the meritorious students on the occasion.
Speaking on the occasion, Governor advised the students to apply their technical knowledge for the benefit of mankind and for creating a sustainable economic order. She advised students to be innovative and work for transforming the lives of ordinary and downtrodden citizens of the state and country with their creative enterprises and hard work so that the entire society could be empowered.
Chief Minister Virbhadra Singh, in his address, asserted that the capacity to create, organize and apply knowledge was the most important trait of every successful person today in any and every profession.
The Chief Minister congratulated all the Students who have distinguished themselves in academics and were awarded medals and degrees.
Sajjan Jindal, guest of honour and Jaiprakash Gaur founder Chairman of the University also spoke on the occasion.
Manoj Gaur, Pro- Chancellor earlier welcomed and honoured the Governor and the Chief Minister and also detailed about the activities of the Jaypee group.
Earlier, the Governor and the Chief Minister distributed the Gold Medals to the students who has excelled in academics.
Col. Dr Dhani Ram Shandil, Social justice and Empowerment Minister was also present on the occasion.