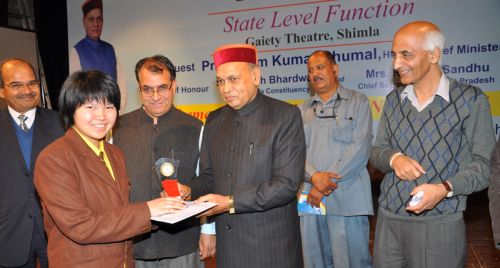 To curb the menace of drugs, State Government is planning to set up Drug De-Addiction Centres in all the 12 districts of the State and special campaign to be launched to vigorously enforce the law against traders selling tobacco products within a radius of 100 yards of the educational institutions. Chief Minister gave a clarion call to every section of the society to make prohibition a mass movement and save the youth from falling prey to drugs and other intoxication substances.
Chief Minister was addressing State Level function of International Day Against Drug Abuse and Illicit Trafficking, organized by the Department of Health and Family Welfare, in the historic Gaiety Theatre, here today. He said that it was the social responsibility of every section of the society to rise against drug abuse and save youth from becoming addictive of the same. He said that the State had already opened two drug de-addiction centres at Kullu and Dharamshala besides two others in IGMC and Dr. Rajendra Prasad Government Medical College, Kangra at Tanda. He said that with the setting up of one drug de-addiction centre in every district youth would be protected against drug abuse.
Chief Minister said that strict legal provisions had been made to check drug abuse and illicit drug trafficking in the State and were being enforced stringently. He said that the State Government would launch special campaign against the illicit drug traffickers and traders involved in selling tobacco and its allied products to the people within a radius of 100 yards of all the educational institutions where policemen would be patrolling. He said that special flying squads would be constituted and its patrolling beefed up against anti-social elements involved in drug trafficking. He said that Special Prohibition Awareness Campaigns would also be launched through educational institutions to sensitize young generations about the drastic impact of drug and tobacco use. He said that toll free helpline would also be started in association with Non-Governmental Organisation to provide information relating to the drug de-addiction to any person. He said that there were a number of NGOs working in the field and educating the society about prohibition through different modes of communication. He said that with the launch of toll free helpline it would be convenient to the people to gather any information with regard to prohibition. He added that in addition to give boost to extra-curricular activities additional educational curriculum would be prepared and implemented besides introducing chapters on prohibition, Yoga and Matryrs of the State to inspire and channelize energy of the youth towards constrictive and positive activities.
Prof. Dhumal said that the State Government had constituted a separate directorate of Health Safety and Regulation to vigorously enforce the legal provisions related to health activities. He said that State Government had created one additional post of drug controller and four posts of drug inspectors to further strengthen the inspection wing of pharmaceuticals. He said that all the posts concerning drug control administration were being filled up on priority. He said that Health Department had raided 78 suspected places to check trafficking of banned drugs out of which 34 were being pursued in the court of law. He said that Narcotics Wing was also functioning in the Police Department under the control of a Superintendant of Police which had also registered 266 cases against the people involved in drug trafficking out of which action had been taken against 264 persons.