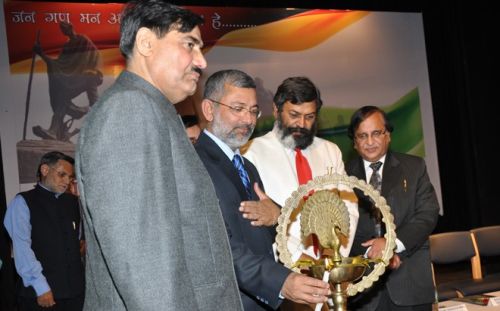 Chief Justice of Himachal Pradesh High Court Justice Kurian Joseph said that the good deeds and hard work put in by the citizens in the right direction make a country proud and help in balanced development. He was speaking in the concluding session of two day Colloquium on Fundamental Duties organized by Himachal Pradesh State Legal services Authority and SEWA Trust in association with Public Relations Society of India, Shimla Chapter and Art, Language and Culture department, Himachal Pradesh at Gaiety Theatre, Shimla yesterday. Fourth Fundamental duty to defend the Country and Render National Service when called upon to do so was the topic of this fourth colloquium.
He said that next colloquium, the fifth one in the series will be held on 30th July, 2011 and the topic of this colloquium will be Promoting Harmony and Denouncing Practices which are Derogatory to Women.
Justice Kurien Joseph said that every citizen must render national service and not personal service. He said that duty was like fundamental value and personalities were built on this foundation. He exhorted the students to learn from the experiences of their teachers and from their own experiences as well.
Justice R.B. Mishra, Judge of H.P. High Court and Executive Chairman of H.P. State Legal Service Authority while welcoming the dignitaries described the essence of fourth Fundamental Duty. He said that our ancient Scriptures have described in detail the concept of 'Karma'. According to them Karma was nothing but doing one's duty with honesty and dedication. He appealed to everyone to defend the rich cultural heritage of the country and every citizen was duty bound to do this. He said that cultural terrorism was threatening Indian culture. Country should be defended in the manner in which we defend our body, he added.
Justice V.K.Ahuja, Judge of H.P. High Court said on the occasion that numerous judgements delivered by various Courts of the Country have time and again proved the importance of Fundamental Duties in Day-to-Day Governance. He said that national service and public purpose were synonymous and Fundamental Rights and Duties were co-related.
Vice Chancellor, Himachal Pradesh University Prof. A. D. N. Bajpai in his key note address said that every citizen must consider India as their mother land and all must serve their country without selfishness. He said that reason for united India with so many diversities was emotional unity. He further said that duties and rights were complementary since time immemorial in our Country. Right means to work more for the cause for the Nation. He said that every duty
was national service and it must be perform as a right. He asked everyone to perform their duties on the call of their souls.
He said that to perform ones duty earnestly was 'Dharma'.
Ashok Arora, Advocate of Supreme Court, Social Worker and Writer said that introspection or contemplation teaches one to understand the essence of duty. He gave valuable suggestions to students on remaining tension free and leading successful life. He said that they should always strive for the best.
A panel discussion was also held in which students from schools of the town and others participated on fundamental duties of the citizens.
A quiz competition based on Fundamental Duties was also organized.
Dr. Prem Sharma, Director, Art, Language and Culture proposed vote of thanks.
Justice Sanjay Karol, Judge of H.P. High Court, Dr. D.S.Manhas, Director General of Police, Shri Vepa Rao, Veteran Journalist, Shri B.D. Sharma, Chairman, Shimla Chapter of PRSI, Smt. Meenakshi Chaudhary, Chairman, Sewa Trust, Judges and former Judges, Members of legal and education fraternity, senior officers of the State Government and members of voluntary organizations participated in the colloquium.