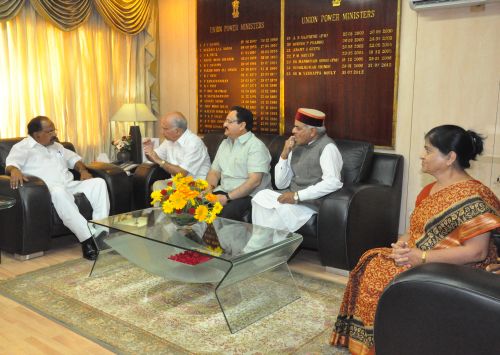 Himachal Pradesh Member of Parliaments under the leadership of Shanta Kumar M.P. National Vice President BJP met Veerappa Moily Union Minister for Power at Sharam Shakti Bhawan New Delhi today and pressed for early decision of various pending issues relating to Himachal Pradesh.
J .P.Nadda, M P, National General Secreatary BJP, Virender Kashyap, MP Shimla Lok Sabha and Vimla Kashyap MP Rajya Sabha were members of the high level delegation which called on Union Minister.
JP Nadda told that the delegation demanded an early solution to the payment of Approximately 4000 crore rupees pending dues on account of due share of the state Govt in Bhakra Beas Management Board, Pong Dam and Slapper Dam and added that supreme court has given the verdict in the favour of the himachal pradesh but despite of it the bureaucratic hassles are being created to delay the legal due payment to the state govt.
JP Nadda told that delegation demanded that central Govt should deduct the amount from plan size of the of the Punjab and Haryana Govt and should pay it directly to the Himachal Pradesh Govt. He said that delegation told the union Govt that centre is equally responsible for the injustice meted out to the Himachal Govt as it remained the mute spectators in all these years.
He said that the delegation demanded the work on hydro engineering college in Bilaspur should be started at the earliest and union power ministry should release the funds for constructions of infrastructure and machinery at the earliest so as the academic classes in the college could be started at the earliest. J.P.Nadda told that the delegation demanded an early decision on the construction of the 500 crore Rs cost 60 M W capacity Dhaula Sidh hydro electric project to be commissioned in the Nadaun area of the Hamirpur district and told that state Govt has completed all the necessary formalities like land acquisition and construction of local infrastructure at priority basis for the project and its techno economic clearance has also been done. He asked the union Govt to instruct the Satluj Jal Vidyut Nigam to start work on this project immediately so as to generate economic activities and employments avenues for the local population in the area M. Veerappa Moily Union Minister for Power assured Shanta Kumar M.P that centre will take decision on all pending issues at the earliest.