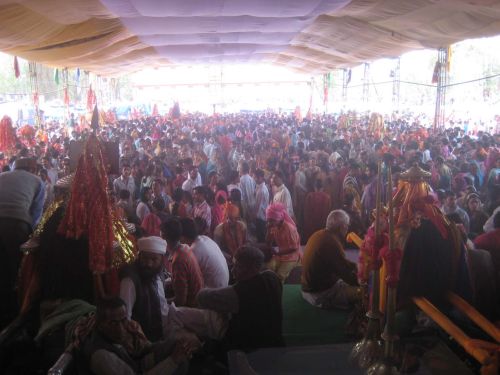 Five-day long Historical Devta Mela began here today with the puja of Mahunag, the main deity of old Suket estate (now Sundernagar). More than 150 devtas (Hill Gods) have been brought here from various parts of Mandi districts.
On the occasion of inauguration of fair a colorful procession was taken out from the P.W.D Rest House lead by Chief Guest Dile Ram BJP MLA Nachan. Dile Ram MLA Nachan who was the chief guest performed puja of all deities at Community Hall, Sundernagar and afterwards the chariots of these deities were afterwards shifted to Jawahar Park.
The fair was inaugurated at 12.30P.M with the puja of Hill Gods after the main deity of Sundernagar, Mahunag, reached here around 12 pm. The fair began after its puja. Mahunag was brought here from Mahu village of Karsog subdivision of Mandi district, more than 100 km from here. Interestingly the contingent of Mahu Nag consisting of more than 100 devotees covered more than 100 KM distance on foot. Around 200 deities have been invited to the fair by the managing committee. As per tradition the Sundernagar town has been decorated at various places and was wearing a festive look .
Mahesh Chander Sharma