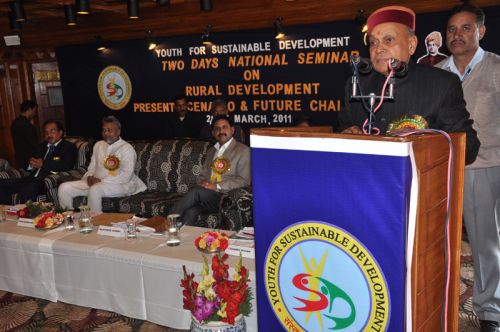 In the inaugural ceremony of a two-day long seminar on Rural Development: Present Scenario and Future Challenges organised by Youth for Sustainable Development Chief Minister said that state is making concerted efforts to create quality basic infrastructural facilities in the rural areas and create employment and self- employment avenues to them to contain the rural population in the villages itself.
He said that rural development is related not only to agriculture but animal husbandry, dairy farming and other allied activities. He said that State Government was committed to motivate youth to revert back to the traditional farming practices instead of running after petty employment opportunities. He said that the educated youth was now adopting diversified farming practices and finding employment avenues for themselves in the agriculture sector for which a number of ambitious schemes had been launched. He also added that new and innovative irrigation schemes were being encouraged and drip and sprinkler irrigation schemes popularising in the State. He said that Rs. 353 crore Pandit Deen Dayal Kisan Baagwan Samridhi Yojna had been launched in the State to motivate progressive farmers adopt modern tools for controlled cultivation of cash crops which was fetching them good prices in the market. He said that large number of poly houses were bring constructed in the State.
Chief Minister said that Rural development which was focusing at economic growth and social justice, improvement in the standard of living of rural people by providing sufficient and quality services has become essential. The present strategy of rural development mainly takes into account the issues related to poverty alleviation, better livelihood opportunities, provision of basic amenities and infrastructure facilities through innovative programmes of wage and self-employment. Although the Department of Rural Development is providing logistic support both on technical and administrative side for programme implementation, the other goals could be achieved through implementation of various programmes with the support of communities, non-governmental organizations, community based organizations, PRI's etc. Prof. Dhumal said that Government policy and programmes have laid emphasis on poverty alleviation, generation of livelihood opportunities and provision of infrastructure to meet the needs of rural poor. For realizing these objectives, self-employment and wage employment programmes continued to pervade in one form or other. As a measure to strengthen the grass root level democracy, the government was constantly making to empower Panchayati Raj Institutions in terms of functions, powers and finance. Grama Sabha, NGO's Self-Help Groups and PRI's can play a significant role to make participatory democracy meaningful and effective.