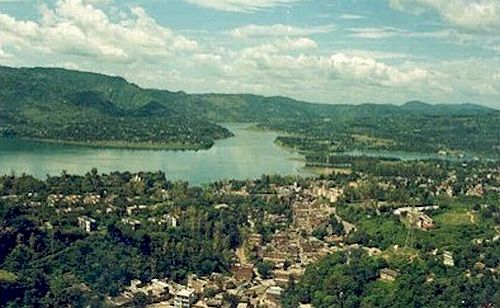 Bhakra Dam oustees, who have been fighting for the past 50 years to get a chunk of land, now want the government to get the original documents of the agreement back from London library. In lieu of submergence of their 41600 acre land for storage of 78 million acre feet of water by constructing Bhakra dam, an agreement was signed on February 2, 1948 between the Raja of Bilaspur Anand Chand and the chief engineer (irrigation) Sarup Singh on behalf of Punjab government. The agreement was further revised and finalized in July 1948. Now, the dam oustees want the contents of the agreement be made public, which have not been disclosed in the past 50 years.
Sources said that one of the three original documents of the agreement was destroyed in a fire at the old secretariat building at Chaura Maidan in Shimla. While the second copy of the agreement was with the raja which he sold to India House Library in London along with historical documents and valuable articles. The third copy of agreement, which is with the Punjab government, has not been made public by the Punjab in order to skip the responsibility over agreed development works.
Bhakra Visthapit Sudhar Sabha president Nand Lal Sharma said, "The government should initiate efforts to bring back the original documents from London at the earliest so that we can get what was promised to us from the states which are treating us step motherly in spite of acquiring our each and every articles." He said "It is surprising that none of the successive governments ever tried to relocate the documents, which could play a significant role in dam oustees getting their dues."
Prem Singh, a retired superintendent of public service commission, Haryana, had applied for a copy of the said agreement under Right to Information Act but was denied the information under Section 8, But when the case was pleaded with the RTI commissioner, Shimla then on his directions, a unsigned copy of the document was provided.
Sharma said that the RTI commissioner had directed the Bilaspur deputy commissioner to arrange to get back the original copy of the documents from London but no efforts have been made in last over three years.
Counsel Anand Sharma over phone from Shimla said that all the rights of the oustees were safeguarded in the agreement. But neither efforts were made to procure the original copy of the agreement nor efforts were made to safeguard the legitimate rights of the Bhakra dam oustees, he rued.
He said, " The terms and conditions of the agreement are binding on the parties and share sought by the state government in the civil suit 2 of 1996 is meant only for rehabilitation of Bhakra dam oustees and should not be used by the state government for other purpose."