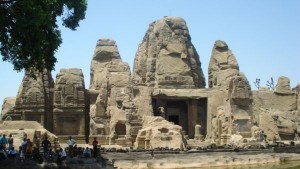 State Government would consider organising conducted tour of school children to Masroor Temple and Pong Dam to acquaint them with the rich heritage State possessed besides organising a festival to expose Masroor Temple nationally and inter-nationally. Chief Minister discloses it in his presidential address on the occasion of one-day Seminar on Masroor Temple, organised by the Department of Tourism and Civil Aviation and Language and Culture Department at Dharamshala jointly today. He said that the state had approached best of the public schools throughout the country to organise conducted tours of their students to visit Himachal to see in person apple orchards and hydel projects to add to their basic knowledge.

He said that Rs. 71 crore would be spent over development of tourism infrastructure in Kangra Circuit in two phases with the 95 million dollar loan being procured from Asian Development Bank.
Chief Minister said that State had invaluable 40 kms. Clear water in Pong Dam Maharana Pratap Sagar capable of attracting any water sports lover to explore the potential. He said that State had 1.31 crore tourists during last year out of which large number were foreigners. He appealed to the local entrepreneurs to set up eco-friendly hospitality units in Masroor area wherein the State Government would extend every possible help. He said that Home Stay could be one of the concept introduced by the State to rope in villagers in rural tourism promotion activities which had been exempted from various leviable taxes.
Prof. Dhumal said that the objective behind organising such a Seminar was to draw the attention of the world towards the vast heritage potential State had for heritage lovers. He said that tourism was the fastest growing economic activity in the world having potential to generate vast employment and self-employment avenues to the youth. He said that the different types of tourism potential could be conveniently converted into economic activity to the people with the motivational activities directed towards the objective. He said that State had naturally best potential which had to be show cased in the right perspective. He underlined the need for joint efforts by all fronts to propagate the same to achieve the objective.