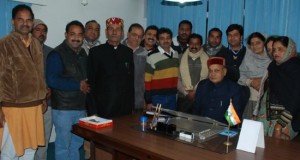 Chief Minister emphasizes the need for accelerating the pace of development in rural areas and has given a clarion call to functionaries of Panchayati Raj Institutions to contribute their best by taking up development in rural areas with sincerity and missionary zeal. He was speaking on the occasion of oath taking ceremony at Dharmshala where he administered the oath of office to the newly elected Pradhans and Up-Pradhans of Gram Panchayats of Kangra and Chamba districts. Chief Minister also administered the pledge of total sanitation, make Himachal polythene free and prefer water management to them on the occasion.

Chief Minister said that people had great expectations from the new functionies of the Panchayati Raj Institutes. He said that Mahatma Gandhi and Pandit Deen Dayal Upadhayaya had dreamt Gram Rajya which had to be realized and added that with this in view the Government was empowering the Panchayats so that the development at grass root was accelerated and dream realised. He said that development at grass root level will ultimately help in the development of the State as a whole. He said that the State Government would provide all possible assistance to the panchayats for development and creating amenities.
Prof. Dhumal said that many programmes were being implemented through Gram Panchayat and thus they owe more responsibilities for the success of these. He said that BJP had promised the women folk to give 50 percent reservation in Panchayati Raj Institution and local bodies in the election manifesto, which had been full filled. He expressed happiness that more then 50 percent women had been elected to coveted posts at the grass root level.
He said that the State would be spending Rs. 38 crore over various training programmes for Panchayati Raj functions. He said that training institutes at Baijnath and Mashobra were also being upgraded at a cost of Rs. 12.80 crore to meet the training requirements of the public representatives.
Chief Minister said that powers given to panchayats needed to be discharged with neutrality and high responsibility. He said that interests of the poorest of the poor and the aggrieved needed to be safeguarded. He said that financial power should also be discharged with utmost responsible. He said that every penny of the public money had to be spent judiciously, transparently and for the benefit of targetted groups. He also congratulated 108 unanimously elected Gram Panchayats which had entitled them to get a special development grant of Rs. 10 lakh over and above the other budgetary provisions which would be disbursed to them in two equal instalments of Rs. 5 lakh each.
Prof. Dhumal appealed to the representatives to ensure implementation of the Total Sanitation Campaign in true sense to make their gram panchaayats open defecation free. He said that no house should be left untouched under the campaign. He said that people needed to be motivated to defecate in the cleanest manner to save them from many health hazards and achieve the objective of 'Nirmal Himachal' by March, 2011. He also appealed them to educate people not to be plastic and polythene as this was the biggest threat to the environment. He said that use of polythene was completely banned in the State and Himachal Pradesh had been short listed Prime Minister's award for this. He said that the State would also be considering to empower panchayats to impose fine for the offenders of polythene and plastic. Chief Minister said that village-level functionaries of the State were the face of the Government at grass root level.