McLeodganj: Chief Minister Sukhvinder Singh Sukhu marked a significant step towards sustainable transportation today as he flagged off 15 electric buses in Dharamshala. In addition, he inaugurated the state-of-the-art McLeodganj Bus Stand, which is expected to enhance facilities for tourists by providing modern amenities and parking space for over 250 cars.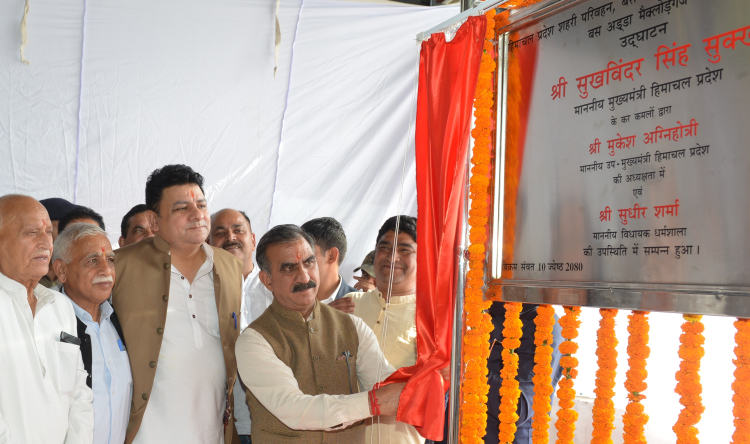 Highlighting the government's commitment to eco-friendly initiatives, Chief Minister Sukhu announced that the Himachal Road Transport Corporation (HRTC) currently operates 75 electric buses, with an additional 15 joining the HRTC fleet today. Furthermore, plans are underway to introduce 20 more electric buses in Shimla, bringing the total electric bus fleet of HRTC to 110 buses. The Chief Minister revealed that tenders have already been issued for the purchase of 75 new electric buses, with plans for an additional 25 electric buses tender process scheduled for June.
In a bid to gradually transition public transportation to electric vehicles, the state government aims to convert 1,500 HRTC buses into electric buses. This ambitious plan demonstrates a long-term commitment to sustainable transportation and reducing carbon emissions.
Chief Minister Sukhu underlined the government's environmental agenda by presenting a green budget and implementing various measures to promote e-vehicles. The government is actively developing the necessary infrastructure, including charging stations, to support the operation of electric vehicles. Additionally, the Rajiv Gandhi Self-Employment Scheme offers a 50 percent subsidy on the purchase of e-buses, e-trucks, and e-taxis, thus enhancing the income prospects for operators.
These initiatives reflect the government's determination to encourage eco-friendly transportation and preserve the state's environment. By promoting electric vehicles and establishing supporting infrastructure, the state government aims to create a cleaner and greener future for Himachal Pradesh.
Furthermore, Chief Minister Sukhu highlighted the significance of green hydrogen as the future energy source. In a pioneering move, Himachal Pradesh is set to formulate a policy on green hydrogen, making it the first state in the country to do so. Despite acknowledging the economic challenges, the Chief Minister stressed the need for policy changes to expedite development. He expressed confidence that within four years, the state's economy would be revitalized, positioning Himachal Pradesh as the most prosperous state in the nation.
To address traffic congestion in the region, the Chief Minister assured the public of conducting a survey for the construction of the McLeodganj-Bhagsu Tunnel. This strategic infrastructure project aims to alleviate traffic congestion and enhance connectivity in the area.