Shimla: Himachal Pradesh's Public Works Department Minister, Vikramaditya Singh, has urged the Union Minister of Information and Broadcasting and Youth Affairs and Sports, Anurag Thakur, to support the development of sports infrastructure in the state with a particular emphasis on boosting water sports. Singh highlighted the need for better facilities during his meeting with Thakur at Shimla on Wednesday.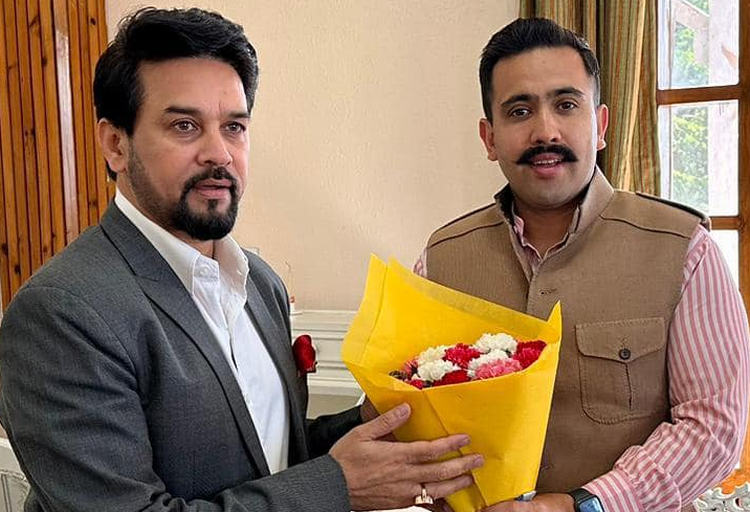 During the meeting, Singh urged Thakur to support the strengthening of sports infrastructure in the state. Thakur assured Singh of complete support and confidence to help develop sports infrastructure and water sports venues in the region.
This initiative presents a significant opportunity for the state of Himachal Pradesh to boost its tourism industry and attract more adventure sports enthusiasts. The region is known for its picturesque beauty and is a popular destination for trekking and mountaineering. However, with the development of water sports infrastructure, the state can now attract more visitors looking for adventure sports such as rafting, kayaking, and water skiing.
In addition, this move will also create opportunities for local residents to participate in sports and generate employment opportunities in the region. Singh has already announced the development of the Pong Dam in Kangra district as a water sports hub, to be done jointly with the Tourism Department. He also mentioned that facilities like golf courses and cruise and shikara rides would be provided at the Pong Dam to make it a major tourist attraction.
Himachal Pradesh has vast potential for exploring water sports in the state. An effective policy and government support can make it a popular destination for water sports lovers and tourists alike. With Anurag Thakur being a five-time MP from the Hamirpur parliamentary constituency, the region can look forward to significant support and development in the years to come.