Inter-state Nakkas at entry and exit points, CCTV cameras to keep 24 hours vigilance
To implement Model Code of Conduct, Himachal Pradesh Chief Secretary B.K. Agarwal said the government would follow the directions of Election Commission of India in the true letter and spirit.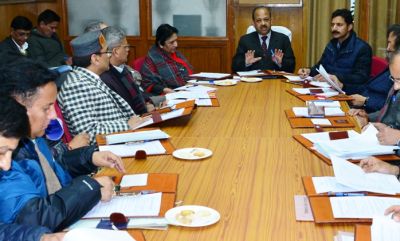 Agarwal said that directions were issued to health department to provide cashless treatment to all those deployed for the election duty. Provision of first aid and prompt medical assistance to the polling and counting personnel during the training, dispersal and collection centres from the very first day of their election duty should be ensured. Directions were issued to map every polling station with State, District, Referral, Community Health Centres, (CHCs) Primary Health Centres (PHCs) and Sub Health Centres with name of the person and contact in case of medical emergency.
The CS has asked all secretaries to apprise and advise ministers accordingly about the do's and dont's of the model code of conduct.
Chief Electoral Officer Devesh Kumar informed that daily submission of law and order reports regarding seizure of liquor, arms, cash etc. were required to be sent to the CEO for further submission to the ECI. He said that there was a need for inter-state co-ordination and meetings amongst excise commissioners and law and order agencies with neighbouring states for effective monitoring of trade of illicit liquor, drugs, cash and illegal arms etc. The State should also declare dry day along the bordering districts on the day of elections in neighbouring states.
It was also directed to set up inter-state Nakkas at entry and exit points and installation of CCTV cameras for 24 hours vigilance. It was also decided to keep all the ware houses in the state under 24×7 CCTV surveillance and intensive vigil over inter-state movement of vehicles at RTO check posts and border check posts round the clock from date of notification till completion of the polls. The Excise department should ensure submission of liquor and cash reports on prescribed format for further submission to ECI.
Director General of Police S.R. Mardi briefed that the installation of CCTV cameras was in progress, yet some necessary equipments were required to be purchased for effective monitoring besides deploying additional battalions of Home-Guards and Police personnel. So far, one battalion of Indo-Tibetan-Border-Police (ITBP) has been deployed.
Instructions were issued to Secretary, HRTC to remove all the banners, if left out, in HRTC buses. It was also directed for maintenance and repair of all the roads, particularly in tribal and hard areas. Direction were given to maintain and repair the paths, connecting polling stations and maintenance of ramps besides upkeep of rest houses and allotment of accommodation to the polling staff and facilitating the electoral machinery and equipment. It was decided to keep the PWD machinery at vulnerable points more prone to landslides and blockades. Directions were issued for uninterrupted water and power supply at all the polling booths set up for smooth conduct of polls.
It was directed that the educational institutions should be well maintained and cleanliness should be the ensured for best of hygiene. As many as 7157 polling booths are set up in various schools and other educational institution. It was asked to ensure deployment of water carriers and class-IV employees on the polling booths. It was also decided to deploy a line-man or electrician to ensuring the regular electric supply.
Additional Chief Secretaries Manisha Nanda, Anil Khachi, Nisha Singh, Manoj Kumar and R.D. Dhiman, Principal Secretaries Jagdish Sharma and Onkar Sharma, Secretary GAD Dr. RN. Batta, Director Tourism, Rakesh Kanwar, Director I&PR Harbans Brascon and MD, HPSEBL JP Kalta were also present on the occasion amongst others.