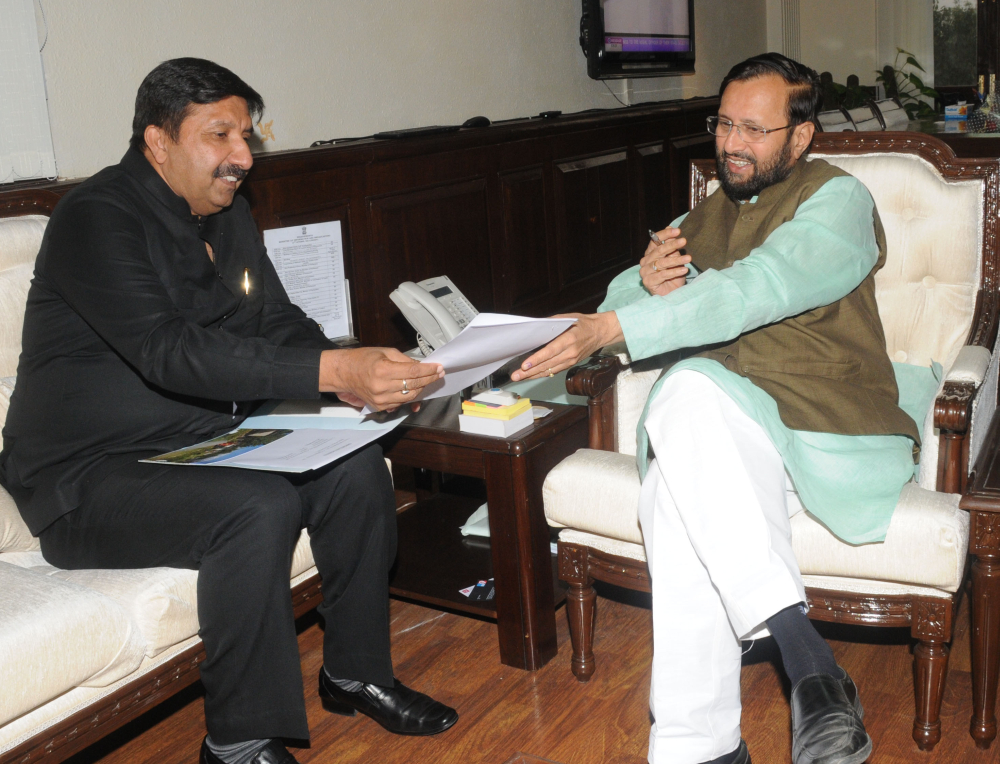 With a view to settle all the cases pending for forest clearances, Industries Minister Mukesh Agnihotri has demanded setting up of State Level Environment Impact Assessment Committees for Himachal Pradesh, which had been lapsed in March, 2014 and the proposal in this regard had already sent to the Centre Government.
Agnihotri raised this demand today during a meeting with the Union Environment and Forest Minister Prakash Javadekar at New Delhi. He apprised the Union Minister that the State Government and common people were facing problems in the developmental construction works due to ban imposed on sand mining without environmental permission by the National Green Tribunal in the Country.
Industries Minister added that as a result of ban on mining activities on river banks, the people were also facing problems in construction works and it had also affected the people who were getting direct employment from this work. He urged Union Minister to personally intervene in to the matter so that developmental works were not held back.
Agnihotri demanded for providing relaxation in the condition of getting environment clearances for mining activities in the areas which were less than two hectares to provide relief to the common people.

Keeping in view the hard geographical conditions of the State, he urged the Centre Minister to relax the environment clearances norms and said that Himachal Pradesh should be given the right for issuing environment clearances for mining activities and small projects upto 5 hectare areas so that the developmental activities would not be hampered in this hilly State.
He also raised the matter for giving early forest clearance on the priority for the industrial development of Pandoga in Una district and Kandrodi in Kangra District which were pending with the Ministry.
Agnihotri said that Chief Minister Virbhadra Singh also had a meeting with Central Environment Minister recently in this regard.
Javadekar assured the Minister that environment clearances would be provided for development of industrial areas in the State and the Ministry was going to constitute State Level Environment Impact Assessment Committees. He directed the top officials of the Ministry to convene a meeting on 20th October with high officers of the State Government under his chairmanship so that pending issues of the State could be resolved.