Shimla: Himachal Pradesh Chief Minister said that the State Government was concerned over the problem of drug abuse by a large number of youth and is constantly trying to curb the evil. He said that although many laws are in force to punish drug peddling but there is a dire need to implement these laws effectively. He said that if the need arises the law would be made more stringent, so that the enemies of the younger generation can be put behind the bars.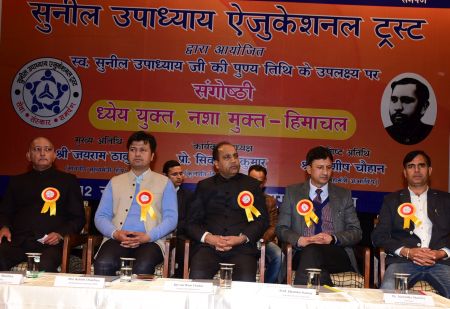 The Chief Minister, while addressing symposium 'Dhyey Yukt, Nasha Mukt Himachal' on the occasion of the death anniversary of Sunil Upadhyaya at historical Gaiety Theater, admitted drug abuse as a serious social problem and to prevent this evil, the Chief Minister asked every person of the society to contribute significantly.
Jai Ram Thakur said that one-third cases of the drugs trafficking registered in the state have neighbouring states connection, which is also a cause of concern for the government. He said that on his initiative a meeting was organized in Chandigarh along with Chief Ministers of Punjab, Haryana and Uttarakhand to formulate a joint strategy to deal with the drug menace. He said that now the time has come to launch a big campaign across the country against drug abuse. He said that to eliminate this evil from the root, every person had to cooperate and each family must involve in it.
He said that a major campaign would be launched against the drug abuse in the state and during this period awareness will be spread among children, youth of different educational institutions and all the people of the society against the drug abuse. He appealed the people to take part in this campaign and discharge their duties in the betterment of society.
Vice-Chancellor of HPU Prof. Sikandar Kumar said that drug abuse is not a solution to any problem, but it destroys a person. The drug addicts ruin not only themselves but the whole family. He said that if this menace was not stopped in time, then we would lose our future generation. He urged the youth to make the struggle a part of life to stay away from this evil, which can lead to the top.