Shimla: Chief Minister Jai Ram Thakur dedicated two mega projects worth about Rs. 90 crores to the people of the state in general and Shimla town in particular on Thursday. These projects include Rs. 82 crore car parking at Tutikandi near ISBT, Shimla and Rs. 8 crore renovated town hall at the Mall.
The thirteen storied car parking will have facility to park about 850 small vehicles besides four buses. The basic amenities would also be made available to facilitate the general public.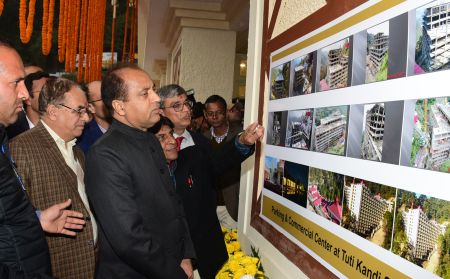 Parking is expected to go a long way in decongesting the flow of tourist vehicles to Shimla town. This parking complex isbiggest projects in Shimla town.
Jai Ram Thakur said tourism development was the top priority of the state government for which all possible efforts would be made for external funding. He said that major thrust would be laid on developing unexplored and virgin areas from tourism point of view.
He said that the Town Hall, Shimla was another ambitious project which was today dedicated to the people of the state. Apart from historic Gaiety Theatre, the Town Hall building was another USP of the town. He said that Rs. 26 crore project with ADB assistance has also been implemented for renovation of Bantony Castle.
Jai Ram Thakur said that the government was adopting policy of zero tolerance against corruption and no compromise would be made in quality of construction in various developmental projects. It was with this objective that the Quality Control Cell has been established in the Chief Minister's Office.
He felicitated the Country Director of ADB Kenichi Yokoyama and other member of ADB on the occasion.