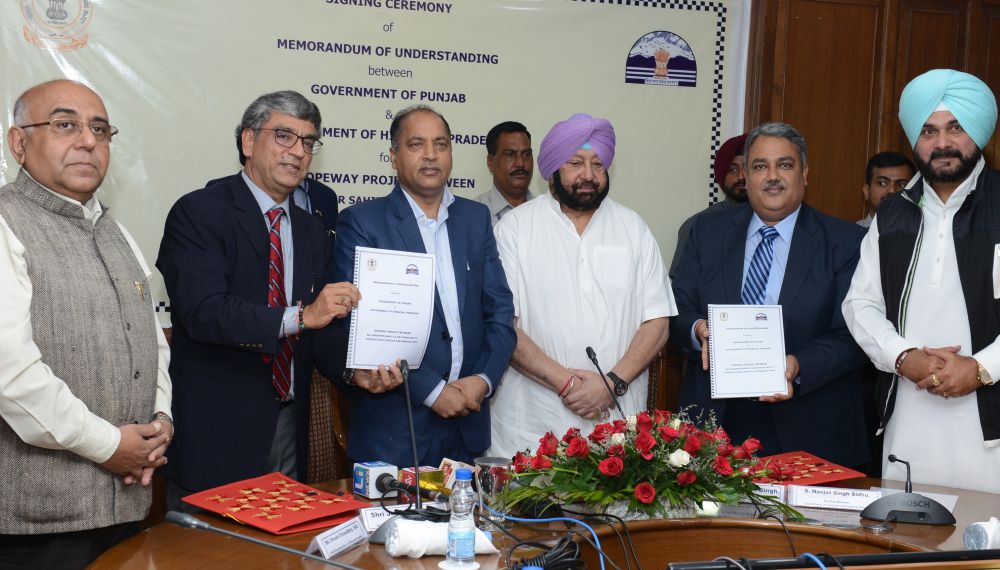 Chandigarh: The state of Himachal and Punjab have signed MOU to build ropeway between Shri Naina Devi and Shri Anandpur Sahib today.
The MoU was signed by Additional Chief Secretary Tourism Ram Subhag Singh from Himachal side and Secretary Tourism Punjab Vikas Pratap Singh from Punjab side. Himachal Chief Minister Jai Ram Thakur and Punjab counterpart Captain Amrinder Singh were present at the occasion.
Ropeway would be built with an estimated cost of Rs. 210 crores and this will be constructed by "Shri Naina Devi and Sri Anandpur Sahib Ji Ropeway Company Pvt Ltd". It will have Board of Directors of 10 members out of which five each will be nominated by both governments. The Chairman of Board of Directors would be nominated by the Punjab government and the Managing Director would be appointed by the Himachal government. Both the governments will deposit 50 Lakhs each as an initial investment.
Lower terminal of the ropeway project would be at Rampur near Shri Anandpur Sahib, Intermediate station will be at Toba in Himachal and the upper terminal point would be at Shri Naina Devi. The tourism departments of both the states would work as nodal agencies for this work.
The project was envisage in the year 2012-13 and 14 acres of land was also acquired for the project. However, the project could not started.
Speaking on this occasion Chief Minister Jai Ram Thakur said that ropeway will prove an emotional bridge between two states and this will promote religious tourism in both states. He said that 80 percent pilgrims come to Shri Naina Devi from Punjab and during last one year 20 Lakh devotees paid their obeisance in this Shakti Peeth.
Punjab Chief Minister Captain Amrinder Singh said that ropeway would facilitate the pilgrims of Punjab and they would get rid of the difficulty in reaching Shri Naina Devi Ji. He said the Punjab government is committed to realize this dream project.
Tourism and Local Bodies Ministers Navjot Singh Sidhu said that inking of MoU by both the Chief Ministers on the auspicious birthday of Sheed-e- Azam Bhagat Singh is a big gift to the mankind. This is a pleasant moment for both the states, he added.